Stirling News
Find current news, events and up to the minute happenings around the city on the updated Stirling News pages.
Stirling News and Events
Current Stirling news and up to the minute happenings in the city of Stirling.
december 2016
Albert Halls Hogmanay Ceilidh
There is no finer night of the year and our Hogmanay Ceilidh is the perfect way to celebrate. With dinner, dancing, entertainment and a full bar, there really is no better place to see in the New Year with old friends and new.
Your host Moira Kerr will provide the usual welcoming mix to make sure that your event will go with a swing.
£60/55
31 December
7.30 pm
Carriages are at 1am
Visit the What's On section of instirling.com for full details.
---
Stirling Castle crowned winner at new awards initiative
Stirling Castle has claimed the title of Scotland's Best Visitor Attraction at the inaugural 2016 Scottish and Outdoor Leisure Awards.
The centuries-old stronghold, which welcomes around 460,000 visitors through its iconic gates each year, was voted for by members of the public and visitors alike before being fully researched and reviewed by an independent judging panel.
Established to recognise and celebrate the very best in Scotland's outdoor and leisure trade industry, the awards saw Stirling Castle go up against other iconic attractions including RZSS Edinburgh Zoo and Dynamic Earth in the Scotland's Best Visitor Attraction category.
Winners from across 17 different categories were announced at the very first Scottish Outdoor and Leisure Awards at a ceremony held in Glasgow.
Liz Grant, Executive Manager of Stirling Castle, which is managed by Historic Environment Scotland, said: "To be named as Scotland's Best Visitor Attraction in this new nationwide awards programme is a wonderful achievement. Scotland's heritage attractions, such as Stirling Castle, form an important part of the country's wider tourism and leisure offering and it's great to see this recognised.
"This accolade is made doubly special as it is initially voted for by members of the public and our visitors. It's a real testament to the dedication of our staff who help bring centuries of Scottish history and heritage to life every day for visitors from all over the world."
Visit the Stirling Castle section of instirling.com.
---
Tolbooth and Albert Halls Festive Performances
Phil Cunningham's Christmas Songbook heads festive programme for Stirling
Phil Cunningham has extended his annual sell-out Christmas tour to include Stirling's ALBERT HALLS for the first time on Fri 16 Dec. His wonderful show features
Karen Matheson, Eddi Reader, Kris Drever, and a brass band. A real festive treat full of wonderful festive songs guaranteed to make you feel Christmassy.
And for children Funbox, formerly Singing Kettle are back with show full of singalong favourites on 28 and 29 Dec.
And at the TOLBOOTH, for the first time we bring you a show that also has enjoyed massive success elsewhere – three performances on 16 and 17 Dec including a matinee.
IT'S A WONDERFUL LIFE, is a play with six actors playing the characters from this beloved film brought to stage as a 1940s live radio broadcast, with a cast including Tom Urie from River City
Other fabulous shows include Roddy Woomble back with his Christmas Hootenany on 15 December / Michelle McManus's acclaimed one woman show with wonderful songs and banter on 26 November /
The incredible Barry Steel's portrayal of Roy Orbison on 9 December, Dean Owens and The Whisky Hearts and loads more.
For full details and to book tickets, visit the Tolbooth and Albert Halls pages of the What's On guide.
---
november 2016
Strange Behaviours at the Tolbooth 2016
The Tolbooth's annual indie and alternative music festival returns with RM Hubbert, Rick Redbeard, The Cosmic Dead and The Lafontaines heading a cast of daringly original acts and soloists. Back for its 3rd year, Strange Behaviours Festival returns with another line-up featuring some of Scotland's most celebrated indie and alternative acts, alongside more boundary pushing and less easily pigeonholed trailblazers. Also boasting a number of the great acts from Stirling's local scene, it's an opportunity for the good people of the central belt to be introduced to some incredible music being made and performed regularly on their doorstep.
Over the evenings of the 25th and 26th November, there will be 3 stages spread throughout the building, with Scottish Album of the Year award winning RM Hubbert, The Phantom Band's Rick Redbeard and award-winning songwriter Be Charlotte topping Friday's billing. Saturday will see the mighty Cosmic Dead (Scotland's foremost internationally acclaimed noise/doom freakout band), hip-hop/rock outfit The Lafontaines and electronic artist HQFU take to the stage.
Music Development Officer at the Tolbooth, Kenny Bates said, "It's really exciting to be bringing the festival back for its third year. It's built a following year on year and we've been really lucky to be able to bring through some of the most exciting indie, alternative and progressive acts in the country.
The thing I like most about the festival is that with more time and space to play with we're able to stage compelling acts of all levels. This ranges from artists who have had notable success doing things in their own mould like RM Hubbert, The Lafontaines and Be Charlotte, alongside the more obscure and lesser known but equally enthralling, artists playing quite niche styles, acts like The Pale Kids, Chump, December '91 and Stock Manager. The atmosphere is always great, the building gets transformed to accommodate the different stages and there's always music you know you like and music you never knew you loved. It'll be a blast."
Strange Behaviours Festival takes place from 7pm till midnight on the 25th and 26th November at the Tolbooth. Tickets are on sale for £15 advance per day / £17 on the door / limited £25 weekend passes available. On sale now from Box Office on 01786 274 000 or via the Tolbooth website.
FRIDAY
RM Hubbert
Rick Redbeard
Be Charlotte
Pinact
Stock Manager
Chrissy Barnacle
December '91
The Pale Kids
Dead Electric
SATURDAY
The Cosmic Dead
The Lafontaines
HQFU
The Nickajack Men
Constant Follower
Eugene Twist
Chump
The Narcissist Cookbook
C R P N T R
For full details and to book tickets, visit the Tolbooth section of instirling.com.
---
october 2016
Pipe Major Willie Lawrie, The Somme and Shinty's Heroes
Stirling Castle commemorates musicians and sportsmen of WW1
Stirling Castle is to host a special tribute to the pipers and shinty players who lost their lives in the First World War. On 29th October, The Somme and Shinty's Heroes will use music, storytelling and song to relate the little-known story of the impact shinty players had on the war – with a particular focus on the story of Pipe Major Willie Lawrie.
The origins of shinty date back nearly 2,000 years. It has long held an important role in Scottish, particularly Highland, communities, and was played by Highland Regiments during both World Wars. The Somme and Shinty's Heroes will uncover some of the stories of these players through visual images, stories, songs and music.
At the centre of the event is a tribute to Pipe Major Willie Lawrie of Ballachulish, composer of the well-known tune "The Battle of the Somme", who died in November 1916. His pipes are displayed in the Regimental Museum of the Argyll and Sutherland Highlanders at Stirling Castle, and will be on display at the event.
In addition to hearing about PM Willie Lawrie, moving stories will be told of Dr Johnnie Cattanach, commonly regarded as shinty's greatest ever player, who died at Gallipoli, Dòmhnall Ruadh Choruna and the Great Gaelic song An Eala Bhàn; the Paterson of Beauly pipes from Festubert and an account of the 1913 and 1914 Camanachd Cup Finals. Many of the players who appeared in these matches never returned from the war. Attendees will also hear the tale of the three "Ballachulish Musketeers", who did return from World War 2 in an extraordinary adventure.
The performance is presented by broadcaster, author and sporting academic Hugh Dan MacLennan, and the musical director is former Scottish shinty captain, accordionist and Mànran star Gary Innes, who has now taken over the BBC's Take the Floor dance music programme.
Hugh Dan MacLennan said: "The impact shinty players had in the Great War and vice versa is a fascinating tale that deserves to be told. Not a lot of this is known beyond the families concerned and not known even in some communities.
"At Stirling Castle, we'll be building on the success of previous WW1 commemoration shows which have been performed from Skye to Glasgow and everywhere in between. It's shinty's way of paying tribute to those who died in the wars, and telling their stories in a slightly different way - through the eyes, stories and tunes of shinty-playing communities."
The main performance features singer Linda MacLeod, and musicians Megan Henderson, Ewan Robertson, Duncan Lyall, James Mackintosh and Gary Innes himself.
Top piper Duncan MacGillivray of Calrossie, will play the Paterson pipes of Beauly which were returned from the Battle of Festubert and have since been played world-wide. The BBC's Iain Anderson will also read specially chosen historical extracts along with Prof Ewen Cameron of Edinburgh University and Brigadier John MacFarlane of Taynuilt.
Also appearing will be a group young local musicians from the Fèis Fhoirth Ceilidh Trailers. They will welcome guests from 1830 and also play at the interval of the main performance.
Liz Grant, Executive Manager at Stirling Castle, which is operated by Historic Environment Scotland, said, "We're pleased to be hosting this event at the castle, which is a unique blend of history, music and storytelling. The performance will bring to life some of the less well known stories of Scotland's sporting heroes, as well as giving new insight into some of the memorabilia held at the Regimental Museum of the Argyll and Sutherland Highlanders. It promises to be a touching and fascinating tribute."
The Somme and Shinty's Heroes is supported by shinty's ruling body the Camanachd Association and Fèisean nan Gàidheal.
The event takes place at Stirling Castle on 29th October, 7pm - 8.30pm
Tickets are £17 for Adults, £15 for concessions, and are available to purchase online at www.historicenvironment.scot/somme-shintys-heroes.
A discount is available for Historic Scotland members.
---
Stirling Citizens for Sanctuary supporting Syrian refugees Sale
There will be a Nearly New Sale of Pre Loved Baby and Children's Goods, Toys and Clothing at Bridge of Allan Parish Church on Sunday 13 November 2016, 2.15pm till 4pm.
Entry by donation.Proceeds from entry to Stirling Citizens for Sanctuary supporting Syrian refugees
Help recycle and give these pre-loved baby and children's items a new home in time for Christmas.
To book a table email BofAPreloved@hotmail.com
---
september 2016
Bloody Scotland crime writing festival
Now in its 5th year the Bloody Scotland Festival will run from the 9-11 September in Stirling. There is a fabulous line up of authors including some of the very biggest names in the business. As ever events take place in a number of venues including the Golden Lion hotel as festival hub for the first time this year.
This year's festival is the first since the passing of the great William McIlvanney, the man who more than anyone, established the tradition of Scottish detective fiction. Bloody Scotland 2016 is dedicated in his honour and so too is the Scottish Crime Book of the Year, the winner of which will now be awarded The McIlvanney Prize on the opening night of the Festival.
All festivals need their box office delivering stalwarts and we have those in spades. Val McDermid, Chris Brookmyre, Ian Rankin, Nicci French, Mark Billingham, Martina Cole and the unstoppable MC Beaton (hosted by Fred McAulay) are all appearing this year.
Finally it wouldn't be Bloody Scotland without a few quirky events. There is the return of the Scotland v England writers football match, the late night lock-in 'Crime at the Coo' at The Curly Coo, a unique event with festival favourite Mark Billingham as he is joined by country duo My Darling Clementine for their show The Other Half and a pop up Escape Room created in conjunction with Val McDermid in Stirling's Thistles Shopping Centre.
Stirling Council Leader Johanna Boyd said, "We're delighted to be hosting the Bloody Scotland festival in Stirling again. The Festival goes from strength to strength each year, and is great for Stirling, both for our cultural scene and tourism, and the local economy. I know that this year's programme will be outstanding and I look forward to welcoming authors and visitors from across the country and overseas to all the fantastic events lined up for September."
Aly Barr, Acting Head of Literature, Languages and Publishing, Creative Scotland said, "Lust, murder, crime and punishment. Isn't that everyone's idea of weekend well spent? We're delighted that Bloody Scotland has been collecting evidence for five years and urge everyone to get along for the big whodunit in Stirling."
Bob McDevitt, Interim Director, Bloody Scotland said, "I'm really looking forward to my first Bloody Scotland as part of the team - it's a great programme, with something for crime writing fans of every persuasion and Stirling once again will be buzzing with the electric Bloody Scotland atmosphere."
Tickets are on sale from www.bloodyscotland.com or at the Box Office in the Tolbooth Tue-Sat, 10am-6pm or in the Albert Halls Mon-Fri, 9am-5pm.
Free standby tickets are available to the unemployed or those on a low income, on the day of the event if there is good availability. Proof of eligibility is required and tickets are limited to one person.
Visit the Bloody Scotland website for full details of all events.
From the Stirling Council website
---
The Shindig
The Shindig
9-11 September at Stirling Old Town jail
After three years, Stirling Fringe Festival has been re-launched as The Shindig - the Best Wee Party in Scotland and taken up residency at the Old Town Jail. Over three days the jail yard will house a performance marquee, acoustic zone yurt and an open air music stage, all playing host to an eclectic variety of events.
From live music and comedy, to children's storytelling, to ceilidhs, pipe bands and beer tastings. Not to mention a cornucopia of street performers, street food from around the world. And with many of the events completely free of charge this really will be the Best Wee Party in Scotland.
Visit the Shindig website for full details of all events.
---
Tolbooth and Albert Halls Culture Stirling events guide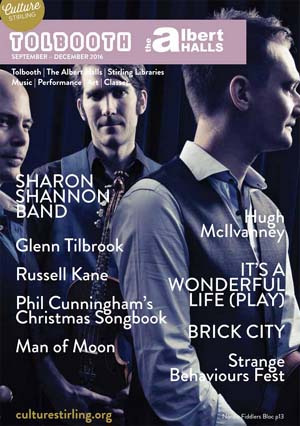 The all new Culture Stirling events guide covering all events from September to December at the Tolbooth and Albert Halls has arrived.
Highlights include PHIL CUNNINGHAM's CHRISTMAS SONGBOOK, HUGH MCILVANNEY, GLENN TILBROOK, SWINGING AT THE COTTON CLUB (fabulous song and dance recreating the Harlem Club), SHARON SHANNON, RODDY WOOMBLE, DOUG SCOTT CBE.
The autumn programme of events has now been announced for the Tolbooth and The Albert Halls, bringing a wonderful range of performances to Stirling. Some are sold out already with others selling fast.
At the Tolbooth, memorable nights of music are in store, including the mighty Sharon Shannon Band, NY blues legend Guy Davis and Brooks Williams, Squeeze's Glenn Tilbrook and Man of Moon amongst others. The indie-alternative-progressive music festival Strange Behaviours is back with 2 nights of live music spread over 3 stages in the Tolbooth. The play Mungo Park comes direct from the Edinburgh Fringe, and also The Collector, a previous prestigious Fringe First winner, not to mention comedy from Seann Walsh and Mark Steel. And don't forget, family arts fun day TOP Fest returns 8th October all around Top of the Town.
A range of classes for adults and children starts back, with music, art, ceramics (including a new class for beginners), fiddle, guitar, songwriting. And the Brick City exhibition takes over the Tolbooth for a month – a must for any LEGO enthusiasts as impressive replicas of London 2012 Olympic Park, Rome's Colosseum and the Las Vegas strip go on display, alongside the chance to get creative and build your own structures and inventions.
Albert Halls' highlights include comedy from Russell Kane, mountaineer Doug Scott CBE revered sports writer Hugh McIlvanney, and Swinging at the Cotton Club, recreating the music and dance of this unique Harlem club with this fabulous production which includes wonderful singers with the Lindy Hop Dance Company and The Harry Strutters Hot Rhythm Orchestra. And fun evenings with the approved Blues Brothers show, and laughs and songs aplenty from Michele McManus.
Towards the end of the year festive nights include Roddy Woomble, 'It's a Wonderful Life: A Radio Play on Stage', the massively successful Phil Cunningham's Christmas Songbook, Skerryvore, a Christmas Fair and the annual Albert Halls' Hogmanay Ceilidh.
Visit the >instirling What's On guide for full details of all events.
---
august 2016
Doune the Rabbit Hole Festival Next Week
Stirling music and arts festival
The dates for this year's Festival are 19th, 20th and 21st August, 2016 at the Cardross Estate, Port of Menteith.

2016 Festival Banner
| Live Music | DJs | Comedy | Workshops | Cinema | Kids Area | Camping | Poetry and Stories | Art and Crafts | Local Food and Drink | Stalls |
A small, independent, friendly music festival with a twist. Celebrating the very best of Scotland's independent/DIY arts scene alongside amazing international guests. Doune the Rabbit Hole festival near stirling, is an intimate, independent music and arts festival located amidst the glorious ancient oak trees of the Cardross Estate, near Lake of Menteith, in Stirlingshire. A music festival with a twist. Since it began, the festival has grown into one of the best events taking place in the Stirling area.
Over 100 acts will descend on the Cardross Estate over the weekend of August 19th to 21st 2016. Just like other festivals you can camp out under the stars and what could be better than waking up to enjoy the beautiful setting of the Cardross estate before enjoying a fantastic weekend of entertainment.
Find out more at Doune the Rabbit Hole Festival
---
Bridge of Allan Highland Games

Sunday August 07 2016
Imagine the scene. Colourful pipe bands, elegant highland dancers, huge strongmen tossing the caber. A multitude of other events, stalls and entertainments spread out in a picturesque and historic setting.
Bridge of Allan is one of Scotland's premier Highland Games, attracting crowds of between 8,000 and 10,000 people. The games field nestles between Stirling Castle – Scotland's grandest historic attraction, the beautiful Ochil Hills and the National Wallace Monument, made famous by the blockbuster movie, Braveheart.
The games themselves offer a packed programme of traditional cultural and sporting events. Crowd-pleasing heavyweight competitions, almost two hundred highland dancers and more than a thousand pipers are just some of the highlights of the day.
You can also enjoy running, cycling and wrestling, browse among trade stands and craft stalls and enjoy a wee refreshment or two as you go. For the young ones there's more thrills to enjoy in the popular funfair, adjoining the Games field.
Whether you live in Scotland and you're looking for a fascinating day out or you're visiting on holiday, you can't fail to be impressed by such a concentration of traditional Scottish events and entertainment. The climax of the day, the massed pipe bands, is one of the most inspiring and emotional sights of Scotland.
Bridge of Allan Highland Games is run to professional standards by dedicated local volunteers. We look forward to meeting you in August.

Highland Dancing
Enjoy the spectacle as hundreds of highland dancers display their graceful art.
Piping
It's the battle of the bands, as more than a thousand pipers thrill the crowds.
Heavyweights
Marvel at amazing feats of power and skill shown by top international strongmen.
Visit the website forBridge of Allan Games
for full details about the event and to find out who this year's Chieftain will be.
Telephone 07437 329827
Email info@bofagames.com
---
GOLDEN HUM at the Tolbooth
Golden Hum presents Brigid Mae Power, Gareth Dickson and Constant Follower

photo Declan Kelly Dreglan Krully
A new intimate night of spectral live music from the fringes of folk, indie and experimental music. In collaboration with local musician Constant Follower, the regular showcase GOLDEN HUM pairs Scottish songwriters with international touring artists from the cutting edge of contemporary music – think Radio 6, Pitchfork and those influential and fiercely independent record labels.
Brigid Mae Power has found her voice on her new self-titled album for Tompkins Square, expanding the lo-fi, DIY nature of her early recordings into something more spacious and substantial. Her sound shares that blend of alternative and dreamy folk synonymous with labelmates Ryley Walker and Tim Buckley, "…when I heard Tim Buckley, it was like a light went off. It allowed me to sing how I wanted to."
Recorded in collaboration with musician/producer Peter Broderick (Efterklang, Sun Kil Moon, A Winged Victory For The Sullen) at his studio in Oregon, the songs are expansive and compelling, built around Power's transcendent vocal, sparse guitar and piano, and enveloped in Broderick's shimmering string arrangements.
Gareth Dickson, whose fingerpicked guitar and analogue ambient soundscapes have seen him collaborate with an array of artists spanning Devendra Banhart, David Byrne and Juana Molina, and grace stages worldwide through his work with Vashti Bunyan. Occasionally entirely instrumental, often with sparing vocals, Dickson is always exploring and finding new possibilities for an age old instrument.
Local artist Constant Follower completes the lineup, pairing a tentative, vulnerable vocal alongside delicate acoustic guitar, his background in electronic music manifesting itself in subtle field recordings and analogue effects.
"Extraordinary" The Guardian
"Masterpiece" UNCUT
"Overwhelming and Transcendent" Pitchfork
Golden Hum launches on 14th August at the Tolbooth, tickets £10 in advance, £12 on the door. Booking and info via the Tolbooth website and Box Office.
Visit the
---
Tolbooth section of instirling.com to see what's on and to book tickets.
---
THE MOSCOW STATE CIRCUS in Stirling
Summer Tour Of Scotland 2016
The Moscow State Circus will be performing in STIRLING from Wednesday 17th to Sunday 21st August.
An awe inspiring new show from the World's, most famous circus. A place where wishes become reality.
The Moscow State Circus returns to the UK with its latest and greatest production to date, based on the Russian folklore story of Cvetik-Semicvetik, or the flower with seven colors, by by Valentin Petrovich Katayev where each of the petals represent a wish and is the perfect back drop for what is undoubtedly the greatest andmost famous circus on earth.
Wizard Wacko and his crazy side kick Natalia Mezentceva invite's the audience to a wondrous and mysterious enchanted garden, a place where dreams come true and a place to see magnificent feats of human achievement, the like of which have never been witnessed in Great Britain before.
As our Loveable Buffoons guide us through this tantalizing tale, granting wishes to the beautiful Kushka Veslovskaya who plays Zhenya, surrounded by a multitude of flying, back flipping, juggling, wire walking and roller skating performers.
This years show features
The award winning Troupe Leontiv – flying parallel bars
STYNKA on the horizontal bouncing Russian bar
VESLOVSKIY roller skating revolutions
TRIO ATLAS on the floating globes
OLGA ROZHKOVSKAYA devastating wirewalker
MOSCOW flying jugglers and dynamic Diablos

Don't miss this amazing show, created especially for its first ever-European tour, all housed in a state of the art air-conditioned big top.
Incredible, just beautiful Paul O'Grady
No 1 show of the week Metro
The Very best circus has to offer Brighton Fringe Festival
Show times
Wed 17th to Fri 19th August 3pm and 7.45pm
Sat 20th August 3pm and 6pm
Sun 21st August 2pm and 5pm
Kings Park
Kings Park Road
Stirling
FK8 2QR
www.moscowstatecircus.com
ticketmaster 0844 856 5555
---
july 2016
A Midsummer Night's Dream comes to Stirling Castle
A touring production of A Midsummer Night's Dream, one of Shakespeare's most popular comedies, will visit Stirling Castle this month.
Hermia loves Lysander and Helena loves Demetrius – but Demetrius is supposed to be marrying Hermia… When the Duke of Athens tries to enforce the marriage, the lovers take refuge in the woods and wander into the midst of a dispute between the King and Queen of the Fairies.
The production by Chapterhouse Theatre Company combines beautifully designed Elizabethan costumes, a wonderful musical score, and enchanting woodland creatures to create an evening of unmissable summer garden theatre.
Visitors are encouraged to pack a picnic and enjoy this creative interpretation of a classic comedy in magical surroundings.
Kit Reid, Senior Interpretation Manager at Historic Environment Scotland, said, "Outdoor theatre is always a great way for visitors to enjoy our sites, and we look forward to welcoming these productions each summer. It's particularly nice to have A Midsummer Night's Dream this year, not just to mark the Shakespeare 400 celebrations, but because his work would have been familiar to some of the residents who lived and worked in these castles."
Richard Main, Artistic Director for Chapterhouse Theatre Company, added, "Chapterhouse have been touring the UK and Europe for more than fifteen years, performing to audiences in all sorts of fantastic historic venues, but there's always something special about Shakespeare. There's no better place to perform A Midsummer Night's Dream, a tale of fairies and forests, than in a historic garden or ruinous medieval castle. The setting really connects the cast and audience with the past of the play, and natural surroundings of flowers and trees help to bring the story to life."
Performances of A Midsummer Night's Dream will take place at Stirling Castle on Wednesday 27th and Thursday 28th July. Doors open at 6.45pm, performance starts at 7.30pm. The performance on the 27th will have British Sign Language interpretation.
Tickets can be purchased in advance at £14 for adults, £12 for concessions and £10 for children aged 5-15 years old. Family tickets, admitting two adults and two children, are available and are priced at £42.
A 10 percent discount is available for members. Tickets purchased online are subject to a small additional booking fee.
Visit the Stirling Castle section of instirling.com.
---
SCOCHA make their first visit to The Tollbooth
Scotland's leading Folk 'n Roll Band SCOCHA make their first and very welcome visit to The Tollbooth, Stirling on Saturday July 16th. Playing their own unique versions of traditional Scottish music given that SCOCHA treatment along with on-stage banter and audience participation SCOCHA provide a great night's entertainment. There is no doubt that very soon the band will have the audience singing along with their wide and varied selection of Scottish songs littered with many of their own compositions. Think The Corries - Runrig - Skerryvore and somewhere in-between lies SCOCHA.
The band have been ambassadors for Scotland on several occasions as they headlined the prestigious New York Tartan Week as well as visiting Calgary Games.
Germany - where they return soon after their Tolbooth visit - and other European countries have also welcomed SCOCHA. Joining in is all part of the evening's entertainment and it is a real feel-good night, suitable for all the family, at a SCOCHA gig. The band's motto is - you can stand or you can sit - but you won't sit still and if you were not a SCOCHA fan when you sit down you will certainly will be when you leave the show. A night to truly look forward to and one definitely not to be missed. Saturday July 16th.
Tickets are available now from the Tollbooth Box Office (01786 274000)
Visit the Tolbooth section of instirling.com to see what's on and to book tickets.
---
Forth Valley ArtBeat
Artists and organisations across Central Scotland host a variety of events from open studios, installations, temporary public artworks, popup shows, film, performance, and exhibitions in galleries and community spaces. Over 140 participating artists at 80 different locations.
Building on the success of Forth Valley Open Studios for the past six years we are now expanding. This year we will be adding new features to the event and rebranding for 2016. Forth Valley Art Beat will take place from 11-19 June and aims to create an inspiring event encouraging participation from artists, designers, maker, art clubs, galleries and organisations delivering a mixture of visual art, from open studios, installations, temporary public artworks, pop- shows, film, performance, exhibitions in galleries and community spaces.
Some artists will be hosting additional event during the nine days, such workshops, demonstrations, poetry reading, live music, film and performance. Details of which are coming soon..
Forth Valley Art Beat aims to bring artists and organisations together whatever the medium, field or practice. Lets celebrate creativity in the Forth Valley area.
In addition to artists opening their studios, many are offering workshops and demonstrations.
Find out more at Forth Valley Open Studios.
---
Europa Music Stage and After Party Late editions to Scribblers Picnic
Popular independent music shop Europa Music is to host a stage at Stirling's Scribbler's Picnic Music Festival on Sunday 8 May for the first time.
The event held at Stirling Rugby Club aims to attract enthusiastic music lovers of all ages along to enjoy an array of acts whilst raising thousands for charity.
Europa owner Ewan Duncan said he is delighted to be part of the event after being a supporter of the Scribbler's Picnic for many years. He added, "Europa has assisted The Scribbler's Picnic charity in the past so it is great to forge a partnership this year. We have some great up and coming bands and are delighted to be hosting a stage. It is a fantastic event which showcases new music and some great established bands and is a brilliant day out."
Now celebrating its' 15th year – the unique day out is run entirely by volunteers and donates all of its' proceeds to cancer related charities.
Maggie's Forth Valley build fund, Marie Curie Cancer Care, Strathcarron Hospice, Children's Hospice Association Scotland (CHAS) and Macmillan Cancer Support have all benefitted from the events over the years with over £100,000 being raised for charitable causes.
Over 200 musicians and singers will be performing music of all genres including folk, indie, rock, ska and covers. Europa's stage will feature the bands: Dave's New Bike, Crashing Jets, The Bell Jar, Tashmore Lake and Tumbling Dice. BBC 'The Voice' singer Laura Begley will also star on the main stage alongside acts such as Bad Name, Benny Gallagher from Gallagher and Lyle and Big Fat Panda.
There will be a range of charity and commercial stalls, tombola, raffle, 5-a-side football, dancing, food vendors, bar, kids shows and inflatables. Sponsors include Central FM radio station, ACL Vehicle Hire, The Tolbooth, Good Vibrations, and Roadshow Music.
This year the official after party will be held at the Corn Exchange pub which will make a donation to the charity event from their post-Scribbler's event. When the music stops at the Rugby Club the fun will continue at the city centre venue with acts including The Shermans, James Lafferty, Brian Cattigan, Paddy Brown, Paul Moran, GT's Boos Band, Johnny Hagan, Scott McGill, Scott Ashworth and Colin Davidson.
The non-profit event is run in memory of Stirling musician, teacher and writer Graham Whitelaw who died of cancer in 2001. Graham penned a column in the Stirling Observer called 'The Scribbler' which is where the name of the event comes from. Graham spent time in Strathcarron Hospice before his death.
Tickets on the gate on the day will cost £25 family (3 children 2 adults); £10 adult; £5 under 16 and under 5s free. Festival goers are encouraged to use public transport to ease traffic congestion locally. There will be a small charge for parking in the car park.
---
Dusting Off Wallace Monument Memorabilia
To mark the 155th Anniversary of the Laying of the Foundation Stone at the National Wallace Monument, a campaign is now underway to collect memorabilia featuring Wallace Monument from years gone by.
Guide books, newspaper articles, photographs and gift items will form part of a display during A Victorian Masterpiece, a special weekend that will take place between the 24th to the 26th June this year.
Elspeth King, Director at The Stirling Smith Art Gallery and Museum is assisting with the special exhibition at the Monument, which will include a collection of Mauchline ware items which used to be sold in the Monument's gift shop. Many of the wooden souvenirs are inscribed, "Made from wood grown on the slopes of the Abbey Craig."
Anyone who would like to share an item or photograph from the past depicting The National Wallace Monument can get in touch by emailing info@nationalwallacemonument.com or through Facebook before the 24th May.
Visit the Wallace Monument section of instirling.com.
---
Dylan Moran at Stirling Tolbooth
Sunday 10th and Monday 11th April, 7.30pm
Don't miss your chance to see Dylan Moran, star of Black Books, Shaun of the Dead and Calvary, in this intimate venue as a warm up for his show Off The Hook. Moran's live stand-up comedy is unique. Sharp, observational, surreal and absurd.
"Jokes as sharp as barbed wire and a comedy brain quicker than a steel trap… Rarely have the rafters of the Playhouse shook so dangerously to the sound of laughter."
The Scotsman
"A supremely confident performer, his timing for delivering punchlines is something special"
The Telegraph
Sunday 10th and Monday 11th April, 7.30pm
£12
Age recommendation 15+
Presented by Mick Perrin Worldwide Ltd
Visit the Tolbooth section of instirling.com to see what's on and to book tickets.
---
Stirling Castle Welcomes Jesters and Dragons
Stirling Castle has unveiled the packed events programme for Easter weekend. Jesters, wizards and even a dragon will appear across the course of Saturday 26th and Sunday 27th March.
Stirling Castle's Festival of Foolery sees the return of the popular Fool School, where the court jester will be on hand to teach visitors how to keep a royal crowd laughing. New for this year there will also be a storyteller in the Chapel Royal waiting to tell tall tales, Easter performances from the Alba puppets, and a huge dragon will be stalking the castle grounds.
Lorna Ewan, Head of Visitor Experience, Content and Learning at Historic Environment Scotland said, "Stirling Castle is pulling out all the stops this Easter with fun events for all the family. The Castle will be filled with jesters, puppets, crafts and games. There are also some great hands on activities, including the chance to craft your own unicorn puppet and an opportunity to try your hand at traditional stonemasonry."
The events take place across both days from 12 noon to 4pm, and are included in the cost of admission. Entry to Stirling Castle is free for Historic Scotland members.
Fool School
Meet the jester and find out whether you have what it takes to entertain the court
Puppet Show
The Alba puppets are preparing for their big Easter outing.
Storytelling
Settle in for magical tales of mirth and merriment with the storyteller in the Great Hall
Hands on History
Learn how stonemasons look after Stirling Castle and try your hand with the hammer and chisel
Junior Jousting
Ready your lance to compete in the junior joust
Virtual Sightseeing
Explore famous World Heritage sites like Skara Brae without leaving the castle using 3D virtual reality goggles
Period Games
Have a go at some renaissance games in the Great Hall.
Bricks 4 Kidz
Explore the world of architecture and engineering with Lego.
Visit the Stirling Castle section of instirling.com.
---
Bella Hardy 24th March at The Tollbooth
photograph © Alex Boyd
2015 was a breathless year for Bella Hardy which saw the release of her seventh solo album, With The Dawn, to great critical acclaim. A summer of opening appearances across the UK and Ireland for Grammy Award winning Mary Chapin Carpenter was topped off by a main stage performance at the prestigious Cambridge Folk Festival and from there followed a fantastic headlining tour in the autumn.
Bella heads out for a small selection of very special, final, With The Dawn shows, performing with her five piece band, formed specifically to capture this stunning album in a live setting, This is not only the last opportunity to hear Bella's With The Dawn show, but also a chance to witness the debut of new songs written on her recent British Council residency in China. She is Playing on 24th March at The Tollbooth, Jail Wynd, Stirling FR8 1DE. Doors 8pm. Tickets: £13/£11.
Bella Hardy's seventh solo album With The Dawn – her first since being named BBC Radio 2 Folk Singer Of The Year in 2014 – isn't just the latest collection of songs from this prolific and ingenious artist. The album is an account of one year of her life. Where previously Bella has adapted and explored traditional ballads and fables to tell her contemporary folk tales, the stories that inspired these songs are her own experiences, good and bad, happy or sad.
Nothing short of a masterpiece The Sunday Times
With The Dawn is more intimate and reflective music than before. Touring with her new With The Dawn Band, Bella is joined by regular stage companion Anna Massie (Blazin' Fiddles), the album's producer Ben Seal (Urban Farm Hand), Tim Lane (The Hidden Orchestra) and Tom Gibbs, in a powerful and evocative collaboration of voice and fiddle, banjo and guitar, piano and keys, electronics and drums. These are songs written on the road, full of that sense of displacement, longing and contemplation that all itinerant musicians know.
Bella grew up in Edale in the Peak District but now lives in Edinburgh. Although the Hardy family sang in the local choir, it was a combination of her childhood love for ballad books and visits to local folk festivals that decided her future. At 13 she began performing at Cambridge and Sidmouth festivals and in 2004 reached the final of the BBC Young Folk Award, having taught herself to fiddle sing. Following a BA in English Literature and a Masters degree in Music, Bella released her debut album Night Visiting in 2007. One of its songs, Three Black Feathers was nominated for a BBC Folk Award. It was her first original composition.
Since then Bella has continued to record and perform at a tremendous rate, appearing on numerous BBC radio and TV programmes, singing solo in a sold-out Albert Hall at the Proms, composing the music for a Radio 4 documentary on the Post Office, writing with former Beautiful South founder David Rotheray, forming an all-female fiddle group with folk royalty Eliza Carthy, and winning yet another Radio 2 Folk Award for her original song The Herring Girl. Her 2013 album battleplan, a collection of reimagined traditional songs, received the best reviews of her career, with multiple stars showered on it from the broadsheets and folk press alike.
Visit the Tollbooth section of instirling.com to see what's on and to book tickets.
---
Tolbooth "Think Thoughts" presents Loki
with support from Bella and The Bear plus Kieran Hughes
Friday 4th March at the Tolbooth. Doors 7.30pm / Tickets £6 advance, £8 on the door / Ages 14+

The Tolbooth's monthly singer-songwriter evening returns with grassroots political firebrand Loki. Darren 'Loki' McGarvey is an artist with many strings to his bow. A multi-skilled, eloquent voice on modern Scotland's socio-political landscape, his work as a rapper, community arts leader, public speaker and journalist has placed him in front of TV cameras, public meetings and music industry showcase audiences. With 17 albums under his belt, including the entirely crowd-funded 'Government Issue Music Protest', Loki tears through his own life experiences and those of the wider communities in areas of deprivation in Glasgow, as well as looking at class on a wider scale throughout Scotland.
In support we're excited to see Bella and The Bear returning to the Tolbooth. After commandeering the cafe/bar during Strange Behaviours Festival last November, it'll be great to see a full set of their unique blend of soul, indie folk and spoken word. Completing the line-up is another of Stirling's finest singer-songwriters. Stand-out finger-style guitarwork stands alongside intriguing lyrical flourishes in a distinctly rootsy, country/blues style.
Music Development Officer at the Tolbooth, Kenny Bates, "Loki played 2014's Strange Behaviours Festival, and returns with a similar live set-up for this – bringing in acoustic guitar and keys as a backdrop to his socio-politically charged rhymes. He's a great performer, full of humour, sharp wit and even sharper assertions. Some of his bars are proper laugh out loud moments, others are incredibly succinct and eloquent.
We've had a lot of hip hop coming through the venue in the past 6 months – the up-beat party atmosphere of Stanley Odd, Hector Bizerk's spine-tingling assault on the senses, even a 2-day workshop on the 4 artistic elements of hip hop. This allows for another more raw and stripped back experience of Scottish hip-hop at it's finest, up close and personal."
"Think Thoughts" is a monthly live music night geared up to feed and develop Stirling's burgeoning singer-songwriter community. With a rich array of solo performers and songwriters present in the city, this monthly artist spotlight event aims to provide a stage for some of the best local acts to play alongside some of the country's biggest names as well as the more experimental, creative acts in the singer-songwriter bracket.
Visit the Tollbooth section of instirling.com to see what's on and to book tickets.
---
Conservation Volunteers in Stirling
The Conservation Volunteers in Stirling are looking for enthusiastic people to help them with their valuable and exciting conservation work across the Stirling area.
they can offer a great opportunity to gain practical conservation experience, learn about the beautiful Scottish species in our area, visit some of Scotland's most breath taking areas as well as working alongside a fantastic group of volunteers and project officers.
All travel to and from worksites is provided, health and safety instruction and supervisions as well as all tools, no previous experience necessary.
If you think you could be interested in joining the team of volunteers or want to know more about volunteering with them then please get in touch.
Mid-Week volunteer groups currently run on Monday, Tuesdays and Wednesdays.
Email rosie.walker@tcv.org.uk, phone 07917555850 or
visit our website to find out more about what we get up to at http://blogs.tcv.org.uk/tcv-scotland/tag/stirling/
---
Tolbooth Think Thoughts presents JR Green
with support from Alan Carberry and Richard Sharman
The Tolbooth's monthly singer-songwriter evening returns for 2016, kicked off by hotly-tipped Scottish artist JR Green. "Think Thoughts" is a monthly live music night geared up to feed and develop Stirling's burgeoning singer-songwriter community. With a rich array of solo performers and songwriters present in the city, this monthly artist spotlight event aims to provide a stage for some of the best local acts to play alongside some of the country's biggest names as well as the more experimental, creative acts in the 'singer-songwriter' bracket.
First up are fresh-faced Scottish folk/indie duo JR Green, generating the first ripples of interest amongst UK music press and radio. Brothers Jacob and Rory Green merge traditional and contemporary flavours into personal anecdotes peppered with angst and social commentary. Their first offering, debut EP 'Bring The Witch Doctor', out on Hits The Fan Records (Frightened Rabbit, Kathryn Joseph) is a stripped back and lo-fi introduction to the honest, howling vocal, up-tempo guitar and busy accordion which characterise their sound. The folk introduction from a childhood spent in the remote Scottish village of Strontian is marbled throughout a more modern, poetic indie sound - seminal '00s acts like The Strokes, Arctic Monkeys and The Libertines having a clear effect during their musical education.
Joining them for this show are Alan Carberry specialising in lush finger-style folk guitar, and Richard Sharman – perhaps best known as the singer-songwriter who leads Stirling University's open mic nights.
Music Development Officer at the Tolbooth, Kenny Bates, "Think Thoughts began in August of 2014, and we've been able to pair up some incredible Scottish artists like Siobhan Wilson, Beerjacket, Withered Hand and Kathryn Joseph, alongside acts really making waves in the Stirling acoustic circuit - December 91, Jamie Flynn, Jason Riddell and Kieran Fisher. The city has a real depth and breadth of talent in the singer-songwriter genre and plenty great events happening locally, so hopefully Think Thoughts can add to this, offer something a little different, and help feed the scene a bit."
Think Thoughts presents JR Green, Alan Carberry and Richard Sharman takes place on Saturday 6th February at the Tolbooth. Doors 7.30pm
Tickets £5 advance, £7 on the door / Ages 14+.
Visit the Tollbooth section of instirling.com to see what's on and to book tickets.
---
Stories and Songs Top Tots Poll in Forth Valley
Parents and carers in Forth Valley have voted free Bookbug Sessions, with stories, songs and rhymes, at local libraries as the top thing to do with children in their area. Carried out as part of the Scottish Government's PlayTalkRead campaign, the poll asked parents and carers of Forth Valley's 0-3 year olds to vote for their favourite activity to do in the area from a 30 Things To Do list that was created with the help of local parents.
Children in Forth Valley also love animals and getting outdoors with splashing around at The Helix in Falkirk voted second in the poll and reading the signs about the animals at Blair Drummond Safari coming third.
Created with the help of parents across Forth Valley, as well as the input of early years practitioners, the list included fun, free and easy playing, talking and reading activities. Votes were cast on a range of activities, from looking for fairies at Doon Hill fairy walk near Aberfoyle, to following the signs for Loch Lubnaig and skimming stones.
Minister for Children and Young People, Aileen Campbell commented: "This list of the best things to do has been created by parents for parents. As a mum of two, I enjoy doing many of the activities included on the 30 things lists with my boys. It's great that some of the best ways to spend time with your children don't need to involve lots of toys or equipment. Making the most of the great outdoor activities we have on our doorstep and trips to the library are all enjoyable, free ways to spend time together with your children."
You can check out the full list of results by visiting www.playtalkread.scot/30-things-results.
The 30 Things To Do in Forth Valley list was created as part of the Scottish Government's PlayTalkRead campaign, which encourages parents and carers to incorporate playing, talking and reading with their little ones into their daily routines.
www.playtalkread.scot has loads of ideas for fun, simple and free activities to enjoy together.
---
Funding pledge for Cowane's Hospital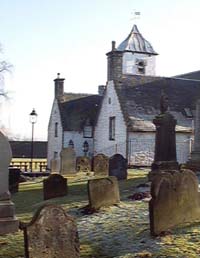 The future of one of Scotland's most remarkable buildings looks bright after the Heritage Lottery Fund earmarked 2 million pounds to save Cowane's Hospital.
The 17th century almshouse in Stirling is deteriorating rapidly and recently had to close to the public due to lack of funds and rising costs. However thanks to the HLF the Cowane's Hospital Maintenance Trust has secured pledges for much of the estimated 3 million needed to repair the beautiful almshouse and gardens, creating a national visitor attraction and community resource.
Cowane's was founded by Stirling's greatest benefactor John Cowane, in the 1630s, to provide shelter for impoverished merchants. The trust plans to provide it with a sustainable future as a visitor attraction telling the story of how modern Scotland was made, through trade, charity and leisure.
The revived Cowane's Hospital will feature:
Restored historic rooms and kitchens
An exhibition about the hospital, Scottish trade and charity
Gardens and bowling green returned to their 18th century splendour
Community heritage projects
Costumed guides and fun family activities.
Hazel Barton, Charity Officer for the Cowane's Hospital Maintenance Trust, said, "This is the best possible news. Cowane's is an important part of our national heritage and it has been terribly sad to see it deteriorate. The building and the charity founded by John Cowane have been important to our community for 400 years, providing help and support for others. It's great that this wonderful building is receiving the helping hand it needs to put it back at the heart of local and national life."
The building's magnificent hall, which is still the meeting place of the Stirling Guildry, will be available for weddings, concerts, parties and events of all kinds. The trust's proposals also anticipate that it will be a centre of activity for local children, old folk and the wider community.
Lucy Casot, Head of the Heritage Lottery Fund in Scotland, said, "Cowane's Hospital has a fascinating history stretching back almost 500 years. We are delighted that thanks to players of the National Lottery, HLF can support the development of a project which will capture and share this history, revitalising a rare building at the heart of Stirling's historic quarter as a tourist attraction and community hub."
Fergus Wood, Chair of the Cowane's Hospital Maintenance Trust said, "This is great news not just for us but for the whole of the Top o' the Town. We will now be redoubling our fundraising efforts to secure the final monies needed to restore this nationally important part of our heritage and give it a bright new future."
Before the trust can access the earmarked funds it has to develop the detail of the restoration works and the heritage activities. It also needs to secure the remaining funds and satisfy HLF that everything is in place for the project to be delivered. This development phase is likely to last until summer 2017 with the work starting on the building by the end of that year.
Cowane's Hospital stands in the Old Town close to Stirling Castle and beside the Church of the Holy Rude where James VI was crowned. For centuries the hospital was the headquarters of Cowane's Trust, Scotland's second oldest functioning charity, which exists to help a variety of vulnerable groups. The charity moved out when the building was no longer fit for purpose. The building was then transferred to a new, separate, charity whose objects include the renovation, onging maintenance and public use of the land and buildings.
Major works are needed, including a new roof, before the building can be re-opened to the public. Vandalism and decay are also taking their toll. The restoration plan has wide backing, including from the leader of Stirling Council and from 15 Members of the Scottish Parliament who put their names to a motion by Labour's Dr Richard Simpson which congratulated the trust on its work to save a building of such national importance.
Visit the Cowane's Hospital section of instirling.com to to find out more.
From Cowane's Hospital Maintenance Trust website www.cowanes.org.uk
---
New season at Stirling Tolbooth
Stirling Tolbooth welcomes from the Blues Band Paul Jones and Dave Kelly, alongside other highlights including the return of legendary guitarists Martin Taylor and Martin Simpson – the two have performed solo at the Tolbooth before of course, but this time come together for an evening which is sure to be memorable.
The Tolbooth are also delighted to welcome one of Ireland's top bands Altan, as well as some of Scotland's best traditional musicians. Outwith our music programme, take a moment to read about the incredible and moving story behind the play The Tailor of Inverness. Mark Thomas brings his show "Trespass" and don't miss stories taken from the career of Phil Differ, and Stuart Cosgrove in conversation with Graham Spiers.
The dust has begun to settle after this year's Strange Behaviours Festival, when every corner of the Tolbooth reverberated wtih the best of Scottish indie, electronic and experimental sounds. 2016's monthly Strange Behaviours nights get off to a flying start with the mighty Hector Bizerk raising the roof, and the lush, folky musings of Randolph's Leap. Meanwhile, their singer-songwriter platform "Think Thoughts" sees politically charged Scottish rapper Loki return to the venue.
Don't forget to check out the new season of classes in case you decide to celebrate the New Year by trying something new.
Visit the Tollbooth section of instirling.com to see what's on and to book tickets.
---
Art exhibition shining spotlight on mental health comes to Stirling
New artwork co-created by patients at Bellsdyke Hospital, inspired by patients of over a century ago, will launch at the University of Stirling this month.
"Staring at the Ceiling, Looking at the Stars" is an artistic response to materials from the Stirling District Asylum Archive – housed by the University Archive - and reveals the indiscriminate nature of mental illness.
Sound recordings and printed artworks produced by artist Sharon Quigley in collaboration with a group of patients and staff at the now-named Bellsdyke Hospital delve behind the case notes, patients' letters and admission books to explore the identities of Asylum patients from 1906-14.
Launching on Saturday, 23 January, the opening day of the exhibition launch will provide the public with an opportunity to view items from the archive and take a guided tour of the exhibition.
The historical records of the asylum were transferred to the University of Stirling Archives in April 2012 as part of a wider NHS Forth Valley historical archive. University archivists have carefully catalogued and conserved these records, which are now widely accessible for the first time.
Hundreds of people were admitted to the Larbert-based Asylum during the late 1800s, including workers from Forth Valley's industrial and agricultural sectors.
NHS Forth Valley Endowments funded the art project, developed in partnership by Artlink Central - a charity providing arts experiences within the NHS to improve patients' experiences and environments - and the University of Stirling Art Collection and Archive.
Previously on display at the Forth Valley Royal Hospital, 'Staring at the Ceiling, Looking at the Stars' will be on display at the University of Stirling's Pathfoot Building from 23 January to 27 May, 2016 and includes archive material which has not previously been on display as well as new artworks which will added to collections of the University Art collection.
Sarah Bromage, Deputy Curator of the University of Stirling's Art Collection said, "The idea for this exhibition was sparked by the University receiving over 150 years of archive NHS materials relating to hospital care and treatment in Forth Valley. The Asylum records - brought to life through these innovative and thought-provoking works - are among the larger Forth Valley health board archive now fully catalogued and accessible through our archive reading room. We are delighted that as part of the project's legacy, a commissioned exhibition piece will be added to the University's Art Collection. This phase of the exhibition will include a number of new works never displayed before and I would encourage anyone interested in delving into these unique records and works to join us for our official launch later this month."
Artist Sharon Quigley said, "After a period of research within the archive I embarked on a journey with residents, working in small groups or one-to-one, exploring our creative common language. Through discussion, recollection, drawing and sound recording we set out to produce a new archive which would reassert the patients' voice. This new archive charts the people and the grounds of the hospital, past and present, whilst creating a response to its fascinating history and environment."
"Staring at the Ceiling, Looking at the Stars" will be on display at the University of Stirling's Pathfoot Building from 23 January to 27 May, 2016. The official launch will be held between 1pm and 3pm on Saturday, 23 January, 2016.
Visit the Stirling University Art Collection section of the website for more information.
---
Stirling Hogmanay celebrations
"A Night to Remember",Stirling's 2015 Hogmanay celebration will take place at the Kings Park in Stirling on the 31st December. At around 6pm children and families will be able to take part in a "Light Parade" which will leave from the top of King Street, leading through Port Street and along to Kings Park. The parade will include performers, community groups and local pupils carrying lanterns and lights through the city centre, following creative workshops in the area leading up to the event.
From 6.30pm families will be treated to over two hours of music and entertainment in Kings Park, with a firework display at 9pm to mark the end of the festivities so that children and families can "bring in the bells" together - without staying up past bed-time. Later in the evening will be the 'Midnight Moment' – a firework display which will light up the city's skyline when the clock strikes 12.
For those who aren't nursing sore heads on the 1st of January 2016, Stirling Council are also hosting a 'Resolution Run' – a 5k fun run in the grounds of Stirling University suitable for all the family. It's a great way to kick-start a happy and healthy 2016 for Stirling. Details of the exact route and sign-up details to be confirmed.
Stacey Burlet, Stirling Council's Director of Communities and Partnerships, said, "Things are really gearing up now for this year's Hogmanay celebrations and we hope that by having a more inclusive programme which caters for children and families we can make this a night to remember for everyone in the Stirling area."
---
Macrobert Stirling Christmas Panto
The Little Mermaid
Macrobert Arts Centre's Christmas Panto, The Little Mermaid will open officially this Friday and runs until Sunday 3rd January. A brand new panto written, directed and starring Johnny McKnight. Suitable for all ages and with tickets from £9.
Millions of miles underwater of Stirling Stella there lies a perfect world - Oceania. Down there there's no violence, no gaudy colours, there's not even a whiff of Celebrity Big Brother. But it's not enough for Ariel. She's madly in love with the most feared and handsome pirate in all the pantosphere – Captain Spark Barrel. But could he ever love a woman who was, well, a fish? That's right A FISH. Dare Ariel strike a deal with the mighty sea witch Ursula? Will true love win out? Will we rip off the movie Splash?
An underwater pirate tail that'll give you the oper-tuna-ity to tap your toes, sing your heart out and boo and hiss this Christmas. Only at Macrobert Arts Centre.
---
Holly at Christmas at Stirling Albert Halls on 9th December
Holly at Christmas - Stirling Albert Halls on 9th December
23 Years of Rock n Rolling The World.
For your chance to win a pair of tickets to Holly at Christmas , just answer the following question.
email your answer to enquiries@instirling.com with your name address and telephone number by Sunday 6th December.
Which John Wayne film inspired the Buddy Holly song That'll be the Day ?
a) True Grit
b) The Searchers
c) Rio Bravo
This breathtaking show has rock n rolled audiences across the globe from Cardiff to California, Barking to Bangkok and Swindon to Sweden and is guaranteed to have everyone singing along to the music and dancing in the aisles.
It stars some of the finest actor-musicians in the UK whose combined West End credits include Buddy, Lennon, Forbidden Planet and Jailhouse Rock and was endorsed as Britain's most popular Buddy Holly act when the boys guested on BBC One's Saturday night live programme, "The One and Only", hosted by Graham Norton.
Whatever the season, whatever the excuse to party, make your Heartbeat a little faster with the show that has thousands of fans the world over saying, "I can't believe it's not Buddy"
"The audience were dancing in the aisles and roaring for more" The Stage
"Buddy brilliant" Graham Norton, BBC One
"Fantastic...The best... tremendous night out...I can't praise the show enough" The Kent and Sussex Courier
"Christmas just wouldn't be Christmas without Buddy Holly and The Cricketers" Somerset County Gazette
Visit the Albert Halls section of instirling.com to see what's on and to book tickets.
---