Stirling News
Find current news, events and up to the minute happenings around the city on the updated Stirling News pages.
Stirling News and Events
Current Stirling news and up to the minute happenings in the city of Stirling.
January February March April May June July September October November December
Stirling Hogmanay celebrations
"A Night to Remember",Stirling's 2015 Hogmanay celebration will take place at the Kings Park in Stirling on the 31st December. At around 6pm children and families will be able to take part in a "Light Parade" which will leave from the top of King Street, leading through Port Street and along to Kings Park. The parade will include performers, community groups and local pupils carrying lanterns and lights through the city centre, following creative workshops in the area leading up to the event.
From 6.30pm families will be treated to over two hours of music and entertainment in Kings Park, with a firework display at 9pm to mark the end of the festivities so that children and families can "bring in the bells" together - without staying up past bed-time. Later in the evening will be the 'Midnight Moment' – a firework display which will light up the city's skyline when the clock strikes 12.
For those who aren't nursing sore heads on the 1st of January 2016, Stirling Council are also hosting a 'Resolution Run' – a 5k fun run in the grounds of Stirling University suitable for all the family. It's a great way to kick-start a happy and healthy 2016 for Stirling. Details of the exact route and sign-up details to be confirmed.
Stacey Burlet, Stirling Council's Director of Communities and Partnerships, said, "Things are really gearing up now for this year's Hogmanay celebrations and we hope that by having a more inclusive programme which caters for children and families we can make this a night to remember for everyone in the Stirling area."
---
Macrobert Stirling Christmas Panto
The Little Mermaid
Macrobert Arts Centre's Christmas Panto, The Little Mermaid will open officially this Friday and runs until Sunday 3rd January. A brand new panto written, directed and starring Johnny McKnight. Suitable for all ages and with tickets from £9.
Millions of miles underwater of Stirling Stella there lies a perfect world - Oceania. Down there there's no violence, no gaudy colours, there's not even a whiff of Celebrity Big Brother. But it's not enough for Ariel. She's madly in love with the most feared and handsome pirate in all the pantosphere – Captain Spark Barrel. But could he ever love a woman who was, well, a fish? That's right A FISH. Dare Ariel strike a deal with the mighty sea witch Ursula? Will true love win out? Will we rip off the movie Splash?
An underwater pirate tail that'll give you the oper-tuna-ity to tap your toes, sing your heart out and boo and hiss this Christmas. Only at Macrobert Arts Centre.
---
Holly at Christmas at Stirling Albert Halls on 9th December
Holly at Christmas - Stirling Albert Halls on 9th December
23 Years of Rock n Rolling The World.
For your chance to win a pair of tickets to Holly at Christmas , just answer the following question.
email your answer to enquiries@instirling.com with your name address and telephone number by Sunday 6th December.
Which John Wayne film inspired the Buddy Holly song That'll be the Day ?
a) True Grit
b) The Searchers
c) Rio Bravo
This breathtaking show has rock n rolled audiences across the globe from Cardiff to California, Barking to Bangkok and Swindon to Sweden and is guaranteed to have everyone singing along to the music and dancing in the aisles.
It stars some of the finest actor-musicians in the UK whose combined West End credits include Buddy, Lennon, Forbidden Planet and Jailhouse Rock and was endorsed as Britain's most popular Buddy Holly act when the boys guested on BBC One's Saturday night live programme, "The One and Only", hosted by Graham Norton.
Whatever the season, whatever the excuse to party, make your Heartbeat a little faster with the show that has thousands of fans the world over saying, "I can't believe it's not Buddy"
"The audience were dancing in the aisles and roaring for more" The Stage
"Buddy brilliant" Graham Norton, BBC One
"Fantastic...The best... tremendous night out...I can't praise the show enough" The Kent and Sussex Courier
"Christmas just wouldn't be Christmas without Buddy Holly and The Cricketers" Somerset County Gazette
Visit the Albert Halls section of instirling.com to see what's on and to book tickets.
---
Shine at Stirling Tolbooth
Shine, a trio of three of Scotland's best known voices and two of the world's finest harp players, are set to release a new 5 track EP FIRE and FROST to coincide with their December 2015 tour. Stunning new renditions of such festive favourites as The Holly And The Ivy, God Rest Ye Merry Gentlemen and The Christmas Song are given fresh contemporary arrangements yet with the traditional spirit still intact.
Shine combines Corrina Hewat, Mary Macmaster and Alyth McCormack's distinctive voices with two electro-harps. They will be bring their unique music embracing seasonal favourites, new original songs and traditional fayre to venues up and down the country this December.
At the Tolbooth, Stirling on Friday, December 4.
Tickets for the show, which starts at 8pm are £13/£11 and can be booked on 01786-274000.
Visit the Tollbooth section of instirling.com to see what's on and to book tickets.
---
Playgroup Openday at Stirling University
The University of Stirling Playgroup invites you to an Open Day on the 3rd of December. Developmental Psychologists will be giving talks on most recent research from 9am until 12pm. It would be great if we could reach parents who are interested in developmental research or in signing their children up for our play or toddler group.
The Psychology Playgroup is privately run and cares for children from the general public as well as students and staff of the University of Stirling. Our playgroup serves the dual purpose of providing a safe and fun environment for children aged two years and nine months to five years along with the opportunity for staff and students to study aspects of child development. Qualified approachable staff are very aware of the importance of liaising with carers, sharing information about your child's interests and progress to nurture confident, healthy and happy children.
Each session provides the opportunity for free and structured play, arts and crafts, stories, songs and a snack. Throughout the year we encourage children to embrace many subjects such as "All about Me" Festivals, Seasons, Recycling, Nature etc. and share with carers at home.
The beautiful campus provides the opportunity for children to observe birds, plants and animals in their natural habitat. They can explore, investigate and have fun walking in the woods or around the lochs (See below). Children and carers also have access to a designated area for growing potted fruit, flowers and vegetables aided by the advice from our very own University gardeners.
For more information please visit www.stir.ac.uk/events/2015/12/psychologyplaygroupopenday/name-115014-en.html
---
Celebrate Christmas at Stirling Castle
With just a month to go until the big day, Stirling Castle is swinging into the Christmas spirit with a series of events and offers including late night shopping, festive feasting and Christmas carols.
Stirling Castle has once again transformed its esplanade shop for the festive season into a dedicated Christmas shop. Clan and Christmas is stocking a range of decorations, stocking fillers and unique gifts for the big day, including many items from local suppliers. Shoppers can cosy up with the 'Highland Christmas' range of knitted products from cardigans to cowls, and even find the perfect present for the family pet in the 'Traditional' collection which includes dog coats and bow ties.
To finish Scotland's year of Food and Drink in style, Clan and Christmas will also be selling limited edition festive flavours of Poporopo popcorn including apple cinnamon and chocolate orange, as well as delicious handmade jams from the Wee Kitchen Company.
Liz Grant, Executive Manager of Stirling Castle, said, "We had a great response to the Clan and Christmas shop when it opened for the first time last year, so it's great to have it back for 2015. We're particularly proud to be supporting local suppliers by stocking lots of unique gifts made in the Stirling area. Christmas is a great time of year to visit Stirling Castle. As well as providing a unique backdrop for your seasonal shopping, there are lots of other events going on, from carol singing to Christmas lunches. We're looking forward to welcoming lots of visitors this year, as there's something for everyone to enjoy."
Shoppers will have the opportunity to meet some of the suppliers at late night Clan and Christmas shopping evenings from 5pm till 8pm on Wednesdays 9th, 16th and 23rd December. Wrapistry by Cherene will also be on hand to demonstrate creative Christmas wrapping suggestions.
Back by popular demand, the Christmas Shopping Fayre will take place on 1st December at 6pm in the Great Hall. Instead of battling through the crowds on the high street, visitors are invited to wander through stalls filled with local crafts, fine foods and drinks, all in the surroundings of a historic castle.
The castle's popular Christmas lunches also return this December, 16th–24th inclusive, offering a unique dining experience for visitors. Tucked away in the Green Room underneath the Great Hall, diners can look forward to a delicious menu1 featuring contemporary and traditional dishes.
The Clan and Christmas shop is open until 31st December. Situated just off the castle's main thoroughfare on the esplanade, it is free to access. Free parking is also available on the castle esplanade for up to one hour, however, car park staff must be notified upon arrival.
Read more about Stirling Castle
---
Artlink Central Christmas Fair
At the Green Gallery, Buchlyvie
Friday 27th November to Sunday 29th November – in aid of local charity Artlink Central
Artlink Central's offices are a hive of activity as preparations are made for this year's Green Gallery Christmas Fair. The participatory arts charity has been the beneficiary of funds raised by Buchlyvie's Green Gallery Christmas Fair for the past 5 years. Thanks to the generosity of Gallery Director, Becky Walker, the charity's many volunteers and the hundreds who attend the three day event, the Christmas Fair has become Artlink Central's major annual fundraising event.
People can expect an array of beautiful and unique handcrafts, homewares, gifts, fashion and accessories by local crafts people and traders. The twenty stalls are presented throughout the stunning gallery and the adjoining farmhouse, with teas, coffees and homebaking served in the inviting kitchen and dining room.
Ladies Night on Friday 27th November, 7-9pm, is a real treat with festive bubbly and gorgeous nibbles served while you shop and catch up with friends. The £8 entrance fee includes a ticket in a spectacular pamper lucky dip with beautiful pampering prizes from some leading retailers, restaurants and health and beauty salons.
The Green Gallery can be found just off the Main Street at Buchlyvie and the Christmas Fair is open Saturday 28th and Sunday 29th November, 10am – 4pm. Ladies Night on Friday 27th starts at 7pm. All proceeds of the weekend support Artlink Central.
Green Gallery, The Coachhouse, Ballamenoch, Buchlyvie, Stirlingshire FK8 3NX www.greengallery.com tel: 01360 850180
---
Vintage Fair
In aid of Strathcarron Hospice
Come along to our ever popular Vintage fair held in the beautiful Bridge of Allan Parish Church from 11am to 4pm. There's a great selection of vintage clothing, collectibles, houseware etc to appeal to everyone and you can pop into our Vintage cafe selling fabulous home baking with tea and coffee being served in genuine vintage crockery with the sound of fabulous 40`s music.
If you would to sell your own vintage or retro wares, give us a call in the fundraising office on 01324 826222 to book a table.
Saturday November 21
11am - 4pm
Bridge of Allan Parish Church Halls
12 Keir Street Bridge of Allan, FK9 4NW United Kingdom

Free admission
---
Rab Noakes at the Tolbooth Stirling
Friday 13 Nov, 8pm
£14/£12
Part of the wave of iconic singer-songwriters of the 1970s, Rab has enjoyed a varied and illustrious musical life. After working with lifelong friend Gerry Rafferty in Stealers Wheel he opted for a solo career –which apart from a number of ongoing successful collaborations –is the format he continues to return to. Superb songs, performed with ease by one man and a guitar.
Tonight will feature songs from Rab's new double album "I'm Walkin' Here", his nineteenth solo release which he describes as '21st century skiffle', featuring both a recently-written clutch of his own songs along with a wide-ranging selection of songs from the 1920s to the present.
"This is Noakes, the musician who picked up on skiffle's immediacy and vibrancy, and also the sophistication that lingered below its home-made facade, singing like he means it, and he always means it "
we get a picture that draws together country twang, New Orleans medicine shows and the roots of Hank Williams, Jerry Lee Lewis, Bob Wills, Merle Haggard, and Bob Dylan as Noakes delivers a raw, emphatic subterranean homage blues to 1920s minstrel Emmett Miller".
Review of 'I'm Walkin' Here' by Rob Adams, The Herald
---
Carnival of Souls at the macRobert Stirling
Spooky nights at the macrobert this Halloween. On Friday 30 October at 11.00pm, a tribute to the late Wes Craven with a late night screening of 1984 cult classic Nightmare on Elm Street. All tickets £5.
Several people are hunted by a cruel serial killer, Freddy Krueger, who kills his victims in their dreams. When the survivors are trying to find the reason for being chosen, Freddy won't lose any chance to kill them as soon as they fall asleep. 80's horror at it's best.
Then on Saturday 31st October at 8.00pm, experience Carnival of Souls. After a traumatic accident, a woman becomes drawn to a mysterious abandoned carnival. This is a binaural, cinema in the dark experience that removes primary visual stimuli to focus instead upon the dual physiological and psychological effects of sound.
Seated in a traditional cinema space and equipped with wireless headphones, the audience will be plunged into blackout for the duration of a purposely-adapted tale centered upon the 1962 experimental horror of the same name, cited as an important influence upon the films of David Lynch and George A. Romero.
Carnival of Souls includes an original score, atmospheric field recording, soundscape, audio effects and experimental narration. All tickets £5.
Visit the macRobert section of instirling.com to see what's on and to book tickets.
---
Reflections of the East in Stirling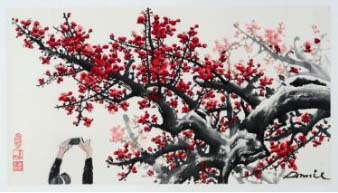 Stirling presents Reflections of the East art exhibition and event series.
A major artistic showcase inspired by China is now open at the University of Stirling. Reflections of the East is a series of exhibitions and events presented by the University's Art Collection and will run until 23 December.
Over 70 works, spanning ink paintings, sculpture and glass are included, in solo shows by Kate Downie, Fanny Lam Christie and Emma Scott-Smith, who share a creative relationship with China.
A painting by Chinese oil painter and curator Ding Fang will be exhibited. Archive items from the late Stirling-born filmmaker Norman McLaren's travels to China - during the communist revolution - will also be displayed.
Reflections of the East is part funded by Museums Galleries Scotland and is open to members of the public in the Pathfoot Building.
Kate Downie first visited China five years ago on a Royal Scottish Academy scholarship. On 11 November she co-presents an Ink Painting workshop and will also deliver the Art Collection Autumn Lecture 'Future-proof': A European gaze at new traditions & past inventions in China.
Emma Scott-Smith, a University of Stirling lecturer in health psychology, and MPhil Psychology graduate of the University, is on the Board of Trustees of Reachout with Arts in Mind in Alloa, a mental health and arts disability group. Emma, who exhibited in Tianjin in 2013, will be holding an art workshop for Reachout in the Art Collection as part of the programme of events.
Originally from Hong Kong, Fanny Lam Christie has been working as artist in residence at the University's Institute of Aquaculture in 2014/15.
The special programme also includes a tea ceremony, and screenings of films by Jia Zhangke - introduced by Stirling's Dr Phillipa Lovatt - at the Macrobert Arts Centre.
Jane Cameron, Art Curator at the University of Stirling, said, "This programme hosted by the Art Collection aims to build on the University's vision to value and embrace international experiences, histories and culture and celebrate the diversity of our student population. We are delighted to be hosting a diverse programme of exhibitions, lectures and events providing a fascinating glimpse of the Far East."
Visit the Stirling University Art Collection section of instirling.com for more details.
---
New season at Stirling Tolbooth
As the nights draw in, why not visit the Tolbooth some of the best music around.
There is a packed programme of performances and be sure to look through the range of classes for adults, children and young people.
Why not try something new, as well as trusted favourites. Be inspired by artists such as Seckou Keita, the masterful Kora player and griot from Senegal, or be moved by The Last Yankee, one of Arthur Miller's later plays dealing with the issues of depression, which is presented as part of the Scottish Mental Health Arts and Film Festival.
All musical genres are covered, with jazz from Scotland's finest, Carol Kidd with Paul Harrison and later Tommy Smith and Brian Kellock; a goosebump programme is on offer from Mr McFall's Chamber. Some fine songwriters are coming, including Eric Taylor, a fine Texan troubadour who has influenced a few upcoming musicians such as, Steve Earle, Lyle Lovatt and Nancy Griffith.
Strange Behaviours festival returns once again bringing the best of the current indie scene, and amongst the highlights of Think Thoughts songwriting evenings is the winner of the Scottish 2015 Album of the Year Kathryn Joseph.
Some of the best trad line-ups are heading our way, and the year ends with the unique dub-diddly sound of the peerless Shooglenifty celebrating their 25th anniversary on the road … there will be dancing.
Visit the Tollbooth section of instirling.com to see what's on and to book tickets.
---
Oxjam Stirling Music Festival
Oxjam Stirling is back and ready to take over Stirling again.
Oxjam Stirling Takeover is holding their festival promoting local musicians and raising money for Oxfam. Oxjam Music Festival is a series of live music events run by volunteers across the UK in October. Since it began in 2006 Oxjam has raised over £2.6 million. This is the current team's second year in Stirling and so far they've raised over £3000.
The festival will take place on the 17th of October in five venues around Stirling – Kilted Kangaroo, Settle Inn, Mediterranea, Darnleys Coffee Shop and Nicky Tams showcasing over 20 local acts. Takeover Manager Emma Erwin says, "we're really excited to be holding our second festival and thankful for all the support we have received from the community, such as Good Vibrations and all the venues."
There will be wristbands for entry to all the venues at £10, which can be purchased through We Got Tickets by searching for "Oxjam Stirling Takeover" in advance or upstairs in Nicky Tams on the day. By purchasing a ticket in advance audiences will be treated to a free meal in Darnley Coffee House.
We're looking for volunteers to help on the day with anything from wristband exchange, runners, sound engineers and people to promote the festival. If you would like to take part in something great please email oxjamstirlingtakeover@gmail.com. We might even still have space to squeeze in extra acts so anyone we haven't found yet who plays original music should get in touch.
Acts performing on the day include
Hello Creepy Spider
Polarnecks
Weird Decibels
Young Fault
The Sonic Blues
Punk in a Sweater
Adverse Effects
Norrie McCulloch
Scott Urquart
Jason Riddell
Will Bell
Josephine Sillars
Steven Kemp
Jamie Flynn
Alan Carberry
Craig Ferrie
The Future Capital (acoustic set)
Paul Moran
Chiara Beradelli
Laura Begley
We Are Animals
The Gracious Attempt
Natasha McDonagh
For more information about Oxjam please visit http://www.oxfam.org.uk/oxjam
---
All My Sons at the macRobert
Thursday 17 and Friday 18 September 2015
Rapture Theatre, in association with The Beacon in Greenock, presents an exciting new production of this American masterpiece to mark the centenary of Arthur Miller's birth.
With a fantastic cast led by Trudie Goodwin (The Bill, Emmerdale), acclaimed RSC and National Theatre favourite Paul Shelley and Robbie Jack (Gary Tank Commander) this taut and emotional thriller is set just after the Second World War in the backyard of Joe and Kate Keller. As they try to keep the memory alive of their son Larry, who disappeared in the war, by the planting of a tree in his honour it becomes clear that this is not the only part of their past that they can't put behind them.
With all the tension of a taut thriller, All My Sons is a powerful drama that crackles with emotion and excitement. See the first classic play, from one of the finest playwrights of the twentieth century, in a great production by Rapture Theatre, one of Scotland's leading touring companies.
macRobert at Stirling University £14 / £12.50 conc / £5.50 Students
Visit the macRobert section of instirling.com to see what's on and to book tickets.
---
Stirling Fringe Festival 2015
September 18 - 26
Stirling Fringe Festival is now in it's third year and as Scotland's OTHER Fringe Festival, they hope to offer something for everyone. This year is more eclectic than ever. From Scottish hip-hop and Italian opera to South African folk songs and hilariously bad American movies, via stand-up comedy, theatre, magic and Robert the Bruce storytelling, we hope there's something that piques your interest.
Barry McDonald, Festival Director says, "It feels like a major achievement to play such a key role in Stirling's blossoming cultural calendar. As a festival we want to attract visitors to Stirling to show the rich seam of culture the city has to offer. It's also a festival for the people of Stirling and, as the festival grows each year, we hope to expand the number of community and schools events as well as continuing to bring acts from around the globe to our small city."
To find out about the festival and for a full programme of events, visit the website at stirlingfringe.com
---
Bloody Scotland Festival 2015
As the literary world celebrates Agatha Christie's 125th anniversary, this year's Bloody Scotland festival pays homage to crime writing past, present and future. Martina Cole, Linwood Barclay, Ian Rankin, Arne Dahl, Val McDermid, Lindsey Davis and Ann Cleeves are amongst the major names confirmed to attend the most star-studded edition of the Stirling-based crime writing festival to date.
The festival, which showcases the best of Scottish and international crime writing in the historic and ancient town centre of Stirling, will run from 11 – 13 September this year. Some of the most famous crime authors in the world are coming to Stirling to talk about their books, events celebrate Scotland as the perfect location for crime writing and the scientific aspects of crime fiction, and the festival joins in the Agatha Christie celebrations with an extra special event.
Dom Hastings, Festival Manager, said, "I think we've put together a really strong programme this year. We're delighted to have so many major, internationally successful names visiting Bloody Scotland. The breadth of writers in this programme shows what a diverse genre crime writing is – there really is something for everybody. This festival is created for people who are passionate about crime writing, and I think that's something to be celebrated – it's an open, accessible weekend, and above everything else, it's a lot of serious fun."
Find full details about Bloody Scotland in the stirling What's On guide
---
Doune the Rabbit Hole 2015 takes place next weekend
This year's Doune The Rabbit Hole is set to be a family-friendly affair as the intimate music and arts festival strikes a balance between festival and family fun by offering an array of family-friendly activities and events that all ages can enjoy.
Taking place at Stirlingshire's idyllic Cardross Estate from August 21st – 23rd, this small music and arts extravaganza offers people of all ages, from babies to golden retirees, an eclectic mix of local and international music, crafts and a family-friendly culture that makes Doune The Rabbit Hole a unique music event in Scotland.
As well as welcoming Scottish and international acts including San Francisco indie band Deerhoof and Shooglenifty, an Edinburgh Celtic fusion band, Doune The Rabbit Hole has a vast selection of creative and engaging family activities.
With an event capacity of only 1000, Doune The Rabbit Hole organisers pride themselves on being one of the country's smallest festivals, giving the event a uniquely intimate and friendly atmosphere. Jamie Murray, Director of Doune The Rabbit Hole Community Interest Group commented, "We are incredibly excited to welcome such a diverse and exciting line-up of musical acts at this year's Doune The Rabbit Hole, but equally we are proud of our ability to offer families and people of all ages, from toddlers to pensioners, a brilliant festival experience. We offer free tickets to children aged 12 and under which underpins our commitment to embracing a family-friendly culture. The support we have received from Event Scotland has allowed us to extend our family offering this year which we are very grateful for."
Entertainment includes Beardy Weardy's DIY Resplendent Adornments, a workshop where people can make wacky festival costumes from recycled materials. Learn about balance, wobbling and spinning with giant hula hoops, spinning plates and unicycles at Spinning Jenny's Circus Skills. Free face painting, drama games, puppet making and 'free play' kids space will also be available to children on site. The will also be a Mad Hatter's Tea Party where general silliness is a must.
Ailsa Nicol, Families Coordinator from Doune The Rabbit Hole said, "All the workshops at Doune The Rabbit Hole are designed so the whole family can take part, so whether you fancy joining the drumming circle, making badges or trying your hand at some clay creations, there will be lots of choice to keep you entertained. I cannot describe how much kids enjoy themselves at festivals. The music, the arts, the wall-to-wall entertainment at their finger-tips, what's not to love."
For ticket information and to find out more about , visit the Doune The Rabbit Hole 2015 page on instirling.com.
---
Stirling Hop-on Hop-off City Bus
See all the sights.
Hop between Stirling's top attractions using the new Stirling Hop-on Hop-off bus this summer.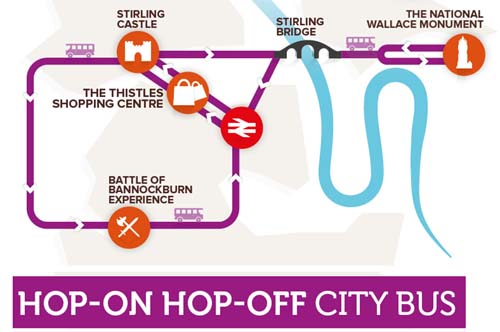 Destination Stirling has launched a trial hop-on, hop-off bus service linking Stirling's key attractions including the Wallace Monument, Stirling Castle, Smith Art Gallery and Museum and the Battle of Bannockburn Experience. Running from Stirling train station the service is available to visitors 7 days a week until the 22 August.
The service runs seven times a day with more frequent stops at Stirling Castle and the train station. Your Hop-on Hop-off bus ticket can be used on any First bus within Stirling – tickets can be bought on the bus or as part of the Stirling City Pass which can be purchased at http://www.destinationstirling.com/hop-on-hop-off-city-bus/ or
at the Visitor Information Centre at the Old Town Jail here in Stirling.
One Day pass £4.50
Two Day Pass £9.00
Children
One Day £2.50
Two Day £4.50 (under 16 years)
Most attractions close around 5pm although you can still explore, take photos or discover the wide range of food, drink and entertainment that Stirling as to offer.
For timetables and journey planner for all bus, rail, coach,air and ferry services in Scotland call 0871 200 2233 or visit travelinescotland.com
---
Meet Mr Darcy at Stirling Castle
Regency society returns to Stirling this summer as Chapterhouse Theatre company bring their touring production of Pride and Prejudice to Stirling Castle.
When Elizabeth Bennet first meets Fitzwilliam Darcy she hates him almost instantly – but she soon discovers that first impressions can be misleading. Bring a blanket and watch one of Jane Austen's most iconic love stories unfold in the surroundings of Stirling Castle on July 30th.
Pride and Prejudice is a comedy of manners, morality, and marriage in British Regency society. It tells the tale of the five Bennet sisters and their mother's often embarrassing quest to find them suitable husbands.
Once the dowry of queens, from Lady Joanna de Beaufort to Mary of Guise, Stirling Castle is no stranger to tales of courtship. Now it will provide a beautiful backdrop for one of the most popular romances in British literature.
Liz Grant, Executive Manager of Stirling Castle, said, "We're delighted to welcome Chapterhouse back to Stirling Castle this summer for what promises to be a fantastic evening of entertainment. Pride and Prejudice is one of Jane Austen's best-loved books, and I'd encourage visitors to remind themselves exactly why that is by coming along to this unique open air performance. This is a wonderful opportunity for audiences to immerse themselves in an enduring and funny love story, told in the historic surroundings of the beautiful Queen Anne Gardens."
First published in 1813, Pride and Prejudice continues to resonate more than 200 years later, with adaptations ranging from the Hollywood retelling Bride and Prejudice to bestselling novel Bridget Jones's Diary and award winning YouTube series The Lizzie Bennet Diaries. Come along to Stirling Castle and see the story that started it all retold in historic splendour.
Richard Main, Artistic Director and Producer for Chapterhouse Theatre Company, said, "It is a great privilege to be able to perform at Stirling Castle, which is one of the most historically significant buildings in Europe. It is a pleasure working alongside Historic Scotland on tour, and we love being able to bring our work to life in such a stunning venue."
Pride and Prejudice at Stirling Castle will take place on Thursday 30th July, at 6.45pm for a 7.30pm start. Tickets can be purchased at the castle or online from the Historic Scotland webstore, and are priced at £14 for adults, £12 for concessions and £10 for children.
A 10% discount is available for Historic Scotland members.
---
Stirling Castle Celebrates French Connection
Art and history lovers in for a treat at Stirling Castle's French Connection weekend.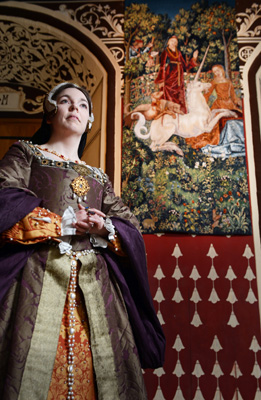 Stirling Castle is set to explore its French Connections this weekend (18th and 19th July) with a series of special events and exhibitions. In the 500th year since the birth of one of the castle's most influential queens, Mary of Guise, the castle will be filled with art and events celebrating her life and times.
The Chapel Royal will be transformed by art exhibitions from Iona Leishman and Douai Artists International, whilst in the Nether Bailey visitors can explore a fascinating exhibition all about "The Other Mary", wife of James V and mother of Mary Queen of Scots. Meanwhile, in the Royal Palace families can see fine examples of French Craftsmanship and even make their own Fleur de Lis, the Great Hall will host a talk on the influence of 16th Century French Cuisine on what was eaten in Scotland, and "Auld Alliance" themed tours will explore the castle's many historical connections with France.
Eleanor Muir, Visitor Experience Manager at Stirling Castle said, "The French influence on life at Stirling Castle was enormous. Visitors see this on a daily basis when they step inside the Royal Palace, recreated to look like it did in the 1540s when it was built for James V's French queen, Mary of Guise – but in the 500th year since Mary's birth we're keen to bring these influences to life even more vividly. As visitors explore the castle during our French Connection weekend, they will be able to learn about its many French ties, from court customs to interior decoration and eating habits. We've also got some fantastic art on display, craft activities for children, and our fascinating exhibition telling the unknown story behind 'The Other Mary'. Whether you're interested in art, history, or trying out the liqueurs on offer in the shop there's something for everyone this weekend."
"And Yet It Stands" is an exhibition of new work by former Stirling Castle artist in residence, Iona Leishman, inspired by Mary of Guise. Iona said, "My fascination with Mary of Guise began during my residency at Stirling Castle from 2011-12. Her courage was formidable, her story by turns tragic and inspiring. The title of the exhibition, "And yet it stands", comes from Mary's personal emblem which is, most poignantly, a crown set above a rock beaten by winds and waves."
"And Yet It Stands" is on display in the Chapel Royal from 18th July until 31st August.
Douai Artists International are visiting Stirling as part of a cultural exchange sponsored by the French Institute, and will showcase a range of work in glass and ceramics in the Chapel Royal as part of the castle's French Connection celebrations. The French town of Douai was once a centre of refuge for Catholics who fled during the reformation, and Mary Queen of Scots gifted them a painting of herself as a thank you for their services to her religion.
Most people will have heard of Mary Queen of Scots, but fewer know about her mother, "The Other Mary" – the subject of a fascinating exhibition running at the castle until the 30th of November. Born five hundred years ago in a French chateau, Mary of Guise grew up to rule the kingdom of Scotland.
And to mark Scotland's Year of Food And Drink, visitors can hear all about Renaissance cuisine with talks in the castle's Great Hall, whilst over in the Clan and Craft gift shop there will be the opportunity to taste Bruadar and Columba Cream Liqueurs.
Entry to the French Connection is included in the admission to Stirling Castle. The event is free to Historic Scotland members.
Read more about Stirling Castle
---
&Collective gallery NEW Exhibition
Joan Doerr
Ascension
from Saturday 11th July
the exhibition continues until 20th August
Joan's work is abstract but the source material is often derived from her immediate surroundings - simply walking around the beautiful city of Edinburgh has given Joan countless creative ideas. She is fascinated as well by the visual impact of the elements on the environment - the weathering's, surfaces and atmospheres are all part of her subject matter.
She has also spent many hours drawing and observing plant forms at the Botanic garden and her interpretation of those images will frequently find their way into the paintings.
Visit the exhibition at &Collective, 28 Henderson Street, Bridge of Allan.
---
Stirling Old Town Jail re-opens for Summer 2015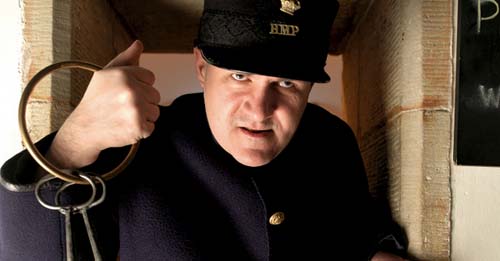 Much-missed by locals and visitors, Stirling Old Town Jail will re-open for three months this Summer. Visit the jail for a journey through the grim and gruesome history of Crime and Punishment in the Royal Burgh.
In new visual displays and through enhanced audio commentary, visitors can hear the histories of our places of punishment and the bloody, bizarre and sometimes baffling tales of the Burgh's heroes and villains. Learn about the Tolbooth's notorious Happy Hangman, Jock Rankin, the Union Martyrs Baird and Hardie – hanged and beheaded in 1820 for asking for the right to vote – the murderer Allan Mair, crusading prison reformer Frederick Hill and many more.
These characters, and others, truly come to life on these highly praised performance tours, telling the story of the Old Town Jail itself. Tours run daily throughout July, August and September 2015 at 10.15am, 10.45am, 11.15am, 11.45am, 12.15pm, 12.45pm, 1.45pm, 2.15pm, 2.45pm, 3.15pm, 3.45pm. 4.15pm. Tickets will be available online from the end of June.
From the Observation Tower, visitors can enjoy some of the best views of the historic Old Town and surrounding countryside – taking in the Tolbooth, Holy Rude Church, National Wallace Monument, Trossachs National Park and, of course, Stirling Castle. The Old Town Jail is a great place to start exploring the sights and stories of Scotland's ancient Royal Burgh and newest City.
---
Read more about Stirling Old Town Jail
---
The Mystic Hunt of the Unicorn Unveiled
A 14 year project to recreate the lost tapestries of James V has been completed at Stirling Castle.
The final tapestry in the series The Mystic Hunt of the Unicorn woven by Master Weavers from West Dean Tapestry Studio was unveiled at Stirling Castle on Tuesday, 23rd June marking the culmination of the biggest tapestry project undertaken in the UK in the last 100 years. The project was commissioned by Historic Scotland in 2001 as part of a wider project to restore the interiors of the palace of James V to how they may have looked in the 1540s, when it was home to James' wife Mary of Guise and their young daughter, Mary, Queen of Scots.
It was known from royal inventories that when James V built the palace he owned over 100 tapestries, but there is no record of what happened to them. The inventories, however, described a set of tapestries depicting "the historie of the unicorne".
The team began extensive research which took them to the United States, and to the Metropolitan Museum of Art in New York, which is home to a set of seven 15th century Flemish tapestries "The Hunt of the Unicorn". The result was a 14 year project to reinterpret and create the "Hunt of the Unicorn" tapestries, bringing together 18 weavers from across the globe.
Now for the first time visitors will be able to see all seven tapestries together, marking the final chapter in the journey to recreate the palace of James V.
Commenting on the completion of the project, Fiona Hyslop, Cabinet Secretary for Culture, Europe and External Affairs, said, "It's wonderful that the Stirling Tapestry project has now been completed after more than a decade of hard work and painstaking research. The installation of the final tapestry marks the final element of a wider project to refurbish the interiors of the palace to how they may have looked in the 1540s – which re-opened its doors to the public in 2011. I hope visitors to the castle will take the opportunity to enjoy the craftsmanship and skill behind these magnificent tapestries, which have brought together a global team to help tell the story of one of Scotland's most magnificent palaces."
Peter Buchanan, Project Manager for Historic Scotland, who oversaw the project from its inception to completion said, "It has been a privilege to watch these talented weavers painstakingly recreate the tapestries in all their Renaissance glory. Whilst we may never know what happened to the original tapestries, the fact that we now have these fantastic recreations, with the assistance of the Met in New York and through the generosity of our donors, will provide visitors to the castle now and for generations to come with a real insight into how the palace may have been at the time of James V."
"The completion of this last tapestry, The Mystic Hunt of the Unicorn, is made all the more impressive by the fact that only two fragments of the original remain in New York. Through extensive research, Katharine Swailes, West Dean Tapestry Master Weaver, and Designer and Weaver Ruth Jones were able to build up a picture of how the panel might have looked originally and it's thrilling to see the end result hanging in the palace with the rest of the series, marking the final step in a fourteen year journey."
The Stirling Tapestry project was funded through donations to the Historic Scotland Foundation. The main donor organisation was the Quinque Foundation of America, with contributions from many other organisations, friends of Historic Scotland and visitors to the Tapestry Studio at the Castle. Weaving was carried out by a team from West Dean Tapestry Studio, who were commissioned to design and weave all seven tapestries.
Weaving took place both at West Dean, near Chichester and on site at a specially commissioned studio at the castle. The onsite weaving saw visitors return to the tapestry studio to watch the weaver's progress over the duration of the project. The space has now been converted into a temporary exhibition, Weaving The Unicorn' charting the weavers' story.
The final tapestry will be on display, along with the other six in the series, to the public from tomorrow – Wednesday 24th June. To view a video about the project please visit https://youtu.be/cBO9DmySARM
---
National Busking Festival – 12th and 13th June 2015
A fantastic two-day festival celebrating the best of Scotland's thriving and diverse muscial busking community. Over the weekend of June 12-13, Stirling will be alive with buskers from all over the country, working their socks of to entertain, inspire and challenge for the National Busking Awards taking place on Saturday night.
The weekend will kick off with an opening gala event at The Guildhall at Cowane's Hospital on Friday night with the main busking competition happening in Stirling city centre during Saturday. The festival will culminate with an awards ceremony and 'after show' speakeasy party. Hot food and a fully licensed bar available.
The National Busking Festival (and National Busking Awards) is a new city centre festival, organised jointly by Stirling Fringe Festival and Loving Food Ltd. The great and the good of musical street busking are invited to descend on Stirling over the weekend of Friday June 12th and Saturday June 13th 2015.
Special musical guests will join the cream of busking talent, celebrity judges and a special guest host to dish out the gongs and the first ever Busker of the Year will be crowned.
Register to perform, it's free.
For more information and book tickets go to www.nationalbuskingfestival.com
---
Doune The Rabbit Hole Announces 2015 Festival Line-Up
Doune The Rabbit Hole, one of Scotland's most intimate music and arts festivals, has revealed its line-up for this year's festival, taking place at the idyllic Cardross Estate from August 21st-23rd. An array of both Scottish and international talent including San Francisco indie band Deerhoof and Shooglenifty, an Edinburgh Celtic fusion band, will be performing at the three day event.
Other newly announced acts include inventive Glasgow group, The Phantom Band and Fatherson, an indie band from Kilmarnock known for their melodic anthems who created a stir in 2014 as over 8000 revellers watched them at T In The Park. Adding a splash of international flavour to the line-up is Bristol based world music group Zun Zun Egui, featuring musicians from Mauritius and Japan and introducing their unique, funky fusion of reggae and hi-life sounds to festival goers.
Jamie Murray, Director of Doune The Rabbit Hole Community Interest Group said, "Every year our line-up of musical talent gets bigger and more eclectic and 2015 is no different. We are incredibly excited to welcome such a range of acts from around the world as well as bands that have formed right here in Scotland. There are so many unique acts performing that there is a musical genre and style for everyone's tastes, so there's lots to soak up and enjoy at this year's event. For anyone who loves festivals, creativity and unforgettable experiences, Doune The Rabbit Hole is a must-see."
Established in 2010, the family-friendly festival will be lighting up the Cardross Estate near the Lake of Menteith, and, as well as welcoming the cream of Scotland's talented music scene and an array of international artists, the festival will host a vibrant mix of workshops for both adult and children, arts, craft producers and quality Scottish food and drink suppliers.
With an event capacity of only 1000, Doune The Rabbit Hole organisers pride themselves on being one of the country's smallest festivals, giving the event a uniquely intimate and friendly atmosphere. Families are warmly welcomed at the festival with tickets for children aged 12 and under available for free, so all ages can experience the range of activities over the course of the weekend.
Jamie added, "There is a real sense of community-spirit at our festival and I guarantee you make friends for life at Doune The Rabbit Hole. It is pretty rare to find a festival that embraces a family-friendly culture. Where else would you see everyone, from toddlers to pensioners soaking up a festival atmosphere."
Doune The Rabbit Hole 2015 is supported by EventScotland, part of VisitScotland. Paul Bush OBE, Director of Events at VisitScotland, said, "We're delighted to be supporting Doune The Rabbit Hole this year. Festival goers can enjoy an amazingly eclectic line-up, from great international acts to home-grown talent. And with live music alongside storytelling and activities, the programme features something for all ages and tastes. Scotland is the perfect stage for events and Doune the Rabbit Hole is a great boost for Stirling, giving visitors and locals the chance to enjoy some great Scottish bands and contemporary music from across the world in the spectacular natural scenery of the Cardross Estate."
For ticket information and to find out more, visit the Doune The Rabbit Hole page on instirling.com.
---
A feast fit for a Queen at Stirling Castle
Stirling Castle is set to transport visitors back in time, more than 460 years, with a feast fit for a Queen. Celebrating Scotland's 'Year of Food and Drink', The Queen's Feast event will immerse visitors into the royal court of Mary of Guise – mother to Mary, Queen of Scots – as both upstairs and downstairs get ready to lay on a grand Renaissance feast.
Taking place over the course of a weekend, on Saturday 23rd and Sunday 24th May, the event will see the hustle and bustle of court life return once again to the castle as it is brought to life with historical costumed performers as they portray the Queen, her courtiers, noble guests and servants during the preparations and festivities.
Whilst a team of cooks will be busy creating a host of dishes for the Queen's banqueting table, visitors will have the opportunity to learn more about the importance of food as a significant part of court life, representing wealth, power and status as well as the service and etiquette surrounding it.
There will also be the chance to sample some of the dishes on offer, including a great Game Pie and a sweet rice pudding, known as Rys Lumbard, which are prepared and inspired from real recipes of the time, in advance of them being presented to the Queen and her guests.
Lorna Ewan, Head of Visitor Experience, Content and Learning for Historic Scotland, said, "This weekend-long event will see the castle and its royal palace brought to life in a special event, providing our visitors with a real feel for what the castle might once have looked and felt like at a time of celebration during the Renaissance. Marking the 'Year of Food and Drink', the event will allow visitors to discover the importance that food and feasting played in Scotland, more than 460 years ago, as well as taste some of the dishes recreated from centuries old recipes for themselves. Feasts and royal festivities would once have been a familiar sight at the castle and its court and we look forward to allowing our visitors to experience what this could have been like."
As part of the event, visitors will be able to get a further insight into royal Scottish court life, and experience the preparations for the great feast. Dancers and musicians will be on hand to entertain, whilst visitors can discover more about court fashion and dress from the period. Meanwhile historical pastimes from the period including one of the favourite sporting pursuits of the royal court, falconry will be demonstrated in the castle grounds offering visitors the chance to learn more about how the Scottish nobility might have spent their time.
Lorna, continued, "The renaissance court was a colourful and vibrant place and feasting was often accompanied by music and dancing, which will be brought together over the course of the event. The court also undertook a number of sporting past times including falconry, and this event is a great opportunity to see this displayed within these ancient walls, as visitors step back in time."
The Queen's Feast at Stirling Castle will take place on Saturday 23rd and Sunday 24th May from 12noon-4pm. This event is included in the cost of admission to Stirling Castle and is free for Historic Scotland Members.
Read more about Stirling Castle
---
Stirling Tolbooth NEW Spring performances
As we head into Spring, the Tolbooth has recently published it's new brochure for April to June. Take a look at the Tolbooth section of the website to find some great nights out. There is only one John Cooper Clark and after his rocket fueled performance last year, he's back so, don't miss him.
Other highlights include an evening with folk legend Peggy Seeger and a performance from Albert Lee, one of the world's finest guitarists backed by Hogan's Heroes. Pick up the new brochure now.
Visit the Tolbooth section of instirling.com to see what's on and to book tickets.
---
Outlander effect at Doune Castle near Stirling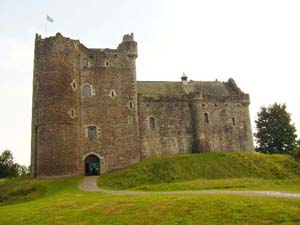 Big-budget US drama Outlander is proving to be a big hit for Scottish tourism as the number of visitors to Doune Castle has risen by almost a third since it featured in the hit drama. Doune Castle, is portrayed as the fictional Castle Leoch, the seat of Clan MacKenzie. Historic Scotland has reported a boost of more than 30% in visitor numbers to the Castle since it was first featured in the series.
The impressive architecture of Doune Castle has made it popular with production companies. It was Swamp Castle, Castle Anthrax and Camelot in Monty Python and the Holy Grail and more recently a location in the pilot for Game of Thrones and the fictional Castle Leoch for the TV adaption of the Outlander novels.
The historic drama features the story of Claire Randell, a nurse from 1946, who travels back in time to the 18th century where she meets and marries Jamie Fraser, amid the Jacobite Uprising. There are eight other Scottish locations, featured in the show. Mike Cantlay, chairman of VisitScotland, said, "Scotland is the land that inspired Outlander and our locations map has already proved a big hit with visitors, with many making the journey to stunning locations within the series such as Doune Castle."
Culture Secretary Fiona Hyslop said, "Doune Castle is just the latest location to report the Outlander effect. From Dumfries to Inverness, historic visitor attractions are reporting a rise in visitor numbers thanks to the popularity of the TV show and renewed interest in the novels. We hope that visitor numbers increase further as viewers in the UK and Germany get to enjoy the programme."
Read more about Doune Castle
---
Woodland carvings unveiled on the Back Walk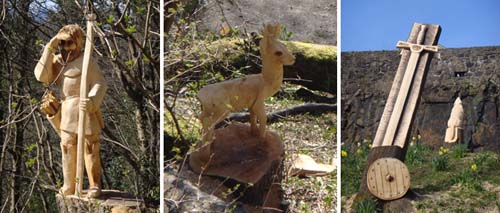 Woodland carvings on the back walk
New woodland carvings have already provided talking points in Dunblane, Bridge of Allan and Fintry, with more planned for communities in Aberfoyle, Strathyre, Callander and Killearn. Teams from the Council's Ranger and Woodland services have recently been working to clear and remove unsafe trees and open up prominent viewpoints along the Back Walk, and the carvings all utilise wood that has been felled as part of that work, giving it a second life.
A team of three chainsaw carvers have worked their magic along the Back Walk in Stirling. The work is all part of efforts by Stirling Council – working along with the Loch Lomond and Trossachs Countryside Trust and Forestry Commission Scotland – to add something extra to the outdoors experience.
The Back Walk carvings are all based on stories from the area's rich and colourful past, supplied by staff at the Stirling Smith Museum and Art Gallery and with two of the designs based on ideas from pupils at the nearby Allan's Primary School.
Environment Convenor Councillor Danny Gibson said: "I would encourage residents to visit the Back Walk to see these fantastic carvings for themselves. I am sure people will agree that this a fantastic feature in our city centre."
Stirling Council Ranger Claire Bird said, "We feel very privileged to have a crack team made up of three of Scotland's finest chainsaw carvers working jointly on this project as part of our efforts to improve the experience of the Back Walk and are delighted with the enthusiastic input we've had from both the Stirling Smith and local school pupils. Hopefully along with the improved views from the Back Walk people will now also have something extra to talk about."
From the Stirling Council website.
Read more about Stirling Back Walk
---
The Great Trossachs FunFest
The Great Trossachs Path offers many ways for everyone to enjoy the magic of the Trossachs, the spectacular landscape and its rich history. Embedded in heart of Loch Lomond and the Trossachs National Park, The Great Trossachs Path has short, long and circular routes of various lengths and challenges. These trails are a series of loop walks each with its own unique character and beauty- from lochside paths, woodland trails to hilltop vistas. The Great Trossachs Path has it all and all within an hours' drive from most of Scotland's population.
To celebrate the opening of the new Visitor Gateways and the Great Trossachs Path, there will be a fantastic week of events with something for everyone to enjoy. From April 11th to April 18th, a host of activities will be held at various locations within the Great Trossachs Forest. We would love you to be involved, or come along and support others.
The programme of events is as follows -
The Great Tartan Skidaddle Saturday 11th April 2015
The Great Egg Assault Course Sunday 12th April
A great Walk in the Park 13th and 14th April
RSPB Nature Cruise Tuesday 14th April
Great Ramble with the Ramblers Wednesday 15th April
The Great Minibeast Hunt Thursday 16th April
The Great Whisky and History Tales of Inversnaid Thursday 16th April
Loop o' the Loch Saturday 18th April
Visit the website to find out more at www.thegreattrossachsforest.co.uk
---
New fairy homes take shape in Aberfoyle
Woodland fairies around Aberfoyle are enjoying a bit of a home makeover thanks to Stirling Council staff. Ever since the 1600s, Doon Hill by the Trossachs village has long been rumoured as a haunt for the magical creatures, when local minister the Rev William Kirk claimed to have seen them there.
Whether or not that's true the Council's Land Services team have decided to help make them as comfortable as possible and a whole series of fairy doors and houses have now sprung up thanks to their efforts working in partnership with Loch Lomond and Trossachs Countryside Trust, Scottish Natural Heritage and the Forestry Commission Scotland.
Stirling Council's Senior Manager of Environment Nicole Paterson said, "It's been fantastic to work so closely with a range of other organisations to make this happen and we certainly hope that people will enjoy this something extra on what is already a pretty popular trail. It's part of a wider programme of work that has been going on to increase interest in all our woodlands, increase visitor numbers and hopefully provide a boost for local businesses as well."
"We recently completed a number of spectacular new carvings on the Back Walk under Stirling Castle and new sculptures have also been created in rural woodlands - with others to come in Strathyre, Callander, Killearn and Balmaha. All of the new carvings and sculptures are created using dead wood from the woods themselves and are unique to each area and tied to specific local heritage themes."
The new constructions are all sited along a popular family walking route, the hope being that as many people as possible will come to enjoy them and, who knows, maybe even spot a fairy or two making use of them.
From the Stirling Council Website
---
Helicopter rescue drama at Wallace Monument

© instirling.com
Drama on Sunday afternoon at the Wallace Monument when, a 17 year old visitor dislocated his knee 4 steps from the top. There was no way that the rescue services who attended could manage to stretcher him back down the the confined stairway. The decision was taken that the only way to get him down safely was to call in rescue services and evacuate him by helicopter. An RAF rescue helicopter arrived on the the scene at about quarter past one and after a few manouevres around the top of the monument, the teenager was winched to safety and deposited to an ambulance waiting at the base.
Read more about the Wallace Monument
---
Give mum the royal treatment at Stirling Castle this Sunday
Stirling Castle has been home to many mothers throughout the centuries including perhaps most famously, Mary of Guise, the mother of Mary Queen of Scots, so it's the perfect spot for mothers to receive the royal treatment this Mother's Day. The castle has lined up a range of events to create an unforgettable Mother's Day this year.
Costumed characters within the restored palace of James V will regale visitors with tales of what life was like for women in times gone by – from Mary Queen of Scots to the mothers of soldiers who followed their sons to the battlefields.
Local artist Laura Murray will also be on hand at a jewellery-making stand in the palace, where she will offer help to children and grownups who want to make their mother a unique gift inspired by the castle's tapestries and collections. The stand will be open from 1.30pm – 3.30pm.
Eleanor Muir, Visitor Experience Manager at Stirling Castle said, "Spending this Sunday in one of Scotland's grandest and most historic venues will make it a Mother's Day to remember. We're blending history, crafts, cuisine and entertainment to ensure that all the mums who visit the castle feel like queens for the day."
Mother's Day 2015 takes place during Scotland's Year of Food and Drink, so the castle's chefs have whipped up extra special dishes for visitors to enjoy in the Unicorn Caf?. Scottish produce plays a starring role in dishes such as hot smoked salmon and Sunday roast chicken, while afternoon tea can be ordered with a glass of fizz. Lunch will be served in the caf? from 12 pm, with afternoon tea service from 2pm.
Tickets to the castle can be bought online in advance, or on the day from the ticket office.
Read more about Stirling Castle
---
Cultural memories captured on camera
Some of the biggest movers and shakers of Scotland's film and TV production scene have been stepping out from behind the camera at the University of Stirling, as part of a national project to document their lives and careers. Pat Campbell, production designer on hit BBC drama Wolf Hall, gave a privileged insight on Wednesday into her long career, in the latest in a series of interviews recorded with film producer and project director/founder Peter Broughan, of Rob Roy Films.
She joins an illustrious group, which includes director Bill Forsyth of Local Hero and Gregory's Girl fame, writer and artist John Byrne, and comedian, writer and actor Sanjeev Kohli, all interviewed recently. Filmed by University staff and students, the footage will form part of the Scottish Cultural Memory Project - a collaboration between the University's Communications, Media and Culture Division, and Peter Broughan.
The Creative Scotland-funded SCMP initiative has aimed to capture and preserve the memory of cultural production in Scotland, through interviews over two phases with prominent practitioners from film and TV. These will be saved in an online archive at the University - already containing other rare archive materials - and be accessible to researchers, academics and the general public. Its director hopes that SCMP will become a permanent feature on the landscape and cover all forms of cultural production in Scotland. In 2014 a large number of 'Aye Write' book festival sessions in Glasgow were filmed, including talks by Alasdair Gray and William McIlvanney.
Dario Sinforiani, Head of Production Teaching in the Division of Communications, Media and Culture, said: "This has been an unparalleled opportunity for students to be involved in productions which document the work of some of Scotland's most important cultural figures. Writers, producers and directors have given a candid insight into their work, their lives, and the cultural landscape of Scotland over the past half century - and Stirling students and staff have recorded this for posterity. The Scottish Cultural Memory Project is a vital way of chronicling the memories and opinions of the people who have helped shape the country's artistic life."
Peter Broughan said, "It has been both a joy and a privilege directing the SCMP at its University of Stirling base. I have been struck by the tremendous generosity, honesty and openness of the very eminent subjects we have interviewed here. I have no doubt that their accounts are a lasting contribution to the story of cultural production in Scotland over the years. If the people who have made the works don't tell their stories now then they never will, and everyone will be all the poorer for it."
Pat Campbell, production designer and SCMP interviewee, said, "I think it's a lovely idea to capture the memories. Film and TV is a particularly difficult industry to get into. Anything that can give young people points of communication or reference – to find out the jobs that are available in it, and the skills that you need – is hugely helpful. I think the diversity of the people that Peter has been speaking to is really interesting as well. To have their undivided attention for several hours, to just talk and communicate, is a fantastic achievement, and will always be interesting to watch."
---
Macrobert Comedy Drama Ticket Offers
With three very entertaining comedy dramas at Macrobert next week how do you decide what to go and see? The answer is you don't, because there are two fantastic ticket deals on offer.
Fast moving, inventive & one highly entertaining comedy drama Teechers (Wed 4 Mar 7.30pm)
An outrageous and hilarious new comedy about online dating Love 2.0 (Thu 5 Mar 7.30pm)
A dynamic, absurd & uplifting comedy drama about con artists, forgery & blind drunkeness. Long Live The Little Knife (Fri 6 Mar 7.30pm)

You get to enjoy all three rather than pay full price for all.
Buy tickets for 1 show and get half price tickets for the second show.
Or buy tickets for 2 shows and get free tickets for the third show.
Find out more at Whats On at the macrobert in Stirling
---
Bo'ness Hippodrome Festival of Silent Cinema 2015
The fifth annual festival of Silent Cinema, takes place at Bo'ness Hippodrome cinema from Wednesday 18th March to Sunday 22nd March. Scotland's only festival dedicated to silent cinema, where Music and Movies Come Alive will showcase classic films and forgotten gems as well as new commissions, and play host to an international array of talented musicians.
Offering a modern cinema experience year-round, the beautifully restored Hippodrome cinema first opened its doors in 1912 and is the perfect setting at the heart of this year's special programme of silent era films.
This year there is a special Scottish focus. 'Annie Laurie' is a romantic tartan Hollywood vision of Scotland, the Film Explainer unpacks Scot author Robert Louis Stevenson's 'Dr Jekyll and Mr Hyde', the life of so-called Scottish expat Eric Campbell is revealed in 'Chaplin's Goliath'.
The festival programme is packed with rare and classic films from the world's archives and populating the Hippodrome and new venues across the town with a brilliant line-up of silent film accompanists from right across the musical spectrum. There is also have a glamorous photographic portrait exhibition, showing silent stars visiting Scotland.
HippFest continues to bring together inspiring people and films, making for an experience much greater than the sum of its parts, so book your tickets now and get a taste of the magic.
Find out more at Hippodrome Festival of Silent Cinema 2015
---
The Battle for Polmaise 1904-1985
March 1985 saw the end of the Miners' Strike, the longest mass strike in European history. It ended without a negotiated settlement, but it had not been about wages, better conditions or material gain. It was about a principle – the right to work.
With the help of Daniel Tetstall, owner of the Polmaise Colliery FaceBook Page and Twitter account, the Smith has put together an exhibition to commemorate the titanic struggle of the Stirlingshire Miners to keep their jobs, their colliery open and their community alive. The village of Fallin was created in 1904 to house the miners brought to work in Polmaise 3&4 Colliery, one of the most productive deep mines in Scotland.
Through social media, interesting material has been brought to light. A photograph, showing a group of Fallin people, young and old, posing with their copies of the Workers' Weekly probably dates to 1923, when the paper was first published by the Communist Party of Great Britain. Fallin built a formidable reputation for strong unionisation; no picket was ever needed at Polmaise Collieries, as the work force was always in agreement when strike action was taken. Polmaise was on strike three weeks before the rest of Britain in 1984, and returned to work a week later than everyone else in 1985.
Polmaise 3&4 was also an award winning, record breaking pit, and a National Coal Board plan with an underground link to feed coal straight into Longannet Power Station, to be built in 1991, will be in the exhibition. Polmaise was closed, flooded and capped in 1987. Television clips, mainly from STV News, solely about Polmaise in 1984 -5 is an important part of the exhibition.
The Polmaise Banner of 1984, prominent in all of the major demonstrations during the Strike, is part of the Smith collections. Smaller items include colliery checks, triangular when going down the pit and circular when coming up, given to the miners so that missing bodies could be accounted for. The total death toll of the colliery, 1904 - 1987 was 55, as a commemorative plate shows. Miners' lamps, pit towels, laundry bags, a piece box and various portraits of Prime Minister Margaret Thatcher will also be in the exhibition, which will be opened by Dennis Canavan at 11am on Friday 6 March.
The Battle for Polmaise 1904-1985 exhibition is at the Smith from 6 March until July 2015. The Smith is open 10.30-5, Tuesday to Saturday and 2-5 on Sundays. Admission and parking free.
Find out more at Whats On at the Smith in Stirling
---
At Stirling macrobert this month
The Western An Introduction
As well as the regular programme of independent and foreign language cinema, the macrobert introduces a short course structured around film screenings and discussion sessions. Led by Professor John Izod, this course will provide an accessible introduction to the Western film genre.
Where did the Western come from?
Why was it once so popular in the USA and overseas?
What happened when the frontier closed?
Stagecoach
John Ford / USA 1939 / 97 min / (U)
wed 18 Feb 7.30pm
The Man from Laramie
Anthony Mann / USA 1955 / 98 min / (U)
wed 25 Feb 7.30pm
The Wild Bunch
Sam Peckinpah / USA 1969 / 145 min / (18)
wed 4 Mar 7.30pm
The Missing
Ron Howard / USA 2003 / 131 min / (15)
wed 11 Mar 7.30pm
Places on this course are limited so book early to avoid disappointment.
£60/£54 (conc)
(Tickets are also available for film screenings only).
Also
Late Night Cult Classics
On the last Friday of the month macrobert gives you the chance to relive some favourite movies that have become cult classics. Even better, you can see these films for only £4.50. On Friday 27 February they are showing The Rocky Horror Picture Show. Starts at 11pm.
Find out more at Whats On at the macrobert in Stirling
---
Heritage Lottery Bid to Save Cowane's Hospital for the Nation

© Janie Meikle Bland at www.picturethepossible.com
Cowane's Hospital, a beautiful 17th century almshouse which has what could be the country's oldest bowling green in its gardens, is in urgent need of repairs. A bid has been launched to raise £3 million to save one of Stirling's most historic buildings and return it to the heart of Scottish life. MSPs and council leader back £3 million plan to turn Cowane's Hospital into a visitor attraction and history hub.
The Cowane's Hospital Maintenance Trust, which runs the building in the heart of Stirling's historic Old Town, has now applied to the Heritage Lottery Fund for £2 million towards the project. This would give the almshouse and gardens a sustainable future back at the heart of Scottish life as a community resource. It would become a national visitor attraction telling the story of how modern Scotland was made – through trade, charity and leisure and would feature:
• Restored historic rooms and kitchens • An exhibition about the hospital, Scottish trade and charity • Gardens and bowling green returned to their 18th century splendour • Community heritage projects • Costumed guides and fun family activities.
The plan has wide backing, including from the leader of Stirling Council and from 15 Members of the Scottish Parliament who put their names to a motion by Labour's Dr Richard Simpson which congratulated the trust on its work to save a building of such national importance. Dr Simpson said, "This is a fantastic project for Stirling and Scotland. Cowane's Hospital tells the story of the making of modern Scotland and played a hugely important role in the development of Stirling. As Cowane's is near to the castle, and right beside the Kirk of the Holy Rude, it could help in regenerating the Old Town area by attracting more visitors and encouraging them to spend longer exploring everything that Stirling has to offer."
Stirling SNP MSP Bruce Crawford, who supported the motion, added, "Cowane's Hospital is a remarkable reminder of how important charity and trade have been in building modern Scotland. It would be good for Stirling and for Scotland to give it a new future as a visitor attraction and as a focus for the community."
For centuries the almshouse was the headquarters of Cowane's Trust – Scotland's second oldest functioning charity, which exists to help a variety of vulnerable groups. But the building is no longer fit for purpose and they had to move out. Major works are needed including a new roof. Vandalism and decay are also taking their toll. One sad sign of the deterioration is that the hand has fallen off the statue of John Cowane (who is known affectionately as Auld Staneybreeks) which is reputed to come to life each Hogmanay and dance in the courtyard.
John Cowane died in 1633 and left a large sum of money to set up an almshouse to care for "decayed" merchants who had fallen on hard times. The charity gradually developed to assist many other groups. The hospital became the meeting place of the once powerful Stirling Guildry and is still known by many as the Guildhall.
Hazel Barton, Charity Officer of the Cowane's Maintenance Trust which cares for the A-listed building, said, "These are really exciting plans which will allow this beautiful, important and historic building to have a new future back at the heart of Scottish life. But the sad reality is that if we can't raise the necessary money then the building will have to close and it will simply continue to deteriorate as there is no money available for the major structural work that has to be done."
At present Cowane's Hospital is open to the public and visitors can see the main hall and gardens, as well as enjoy superb home cooking at the John Cowane's Coffee Shop café. It also hosts a range of events and functions.
Read more about Cowane's Hospital in the instirling sightseeing around Stirling guide.
---
World's largest tapestry on display at Stirling Castle
The world's largest embroidered tapestry – The Great Tapestry of Scotland – has gone on public display at Stirling Castle. The castle's Great Hall will play host to the tapestry which depicts millions of years of Scottish history, from Saturday 31st January as part of a national tour.
Visitors to the castle will be able to see the tapestry exhibited in its entirety within the impressive surroundings of the Great Hall of James IV – one of the few venues to date where all panels will be on display within one room.
The embroidered timeline, the brainchild of renowned author, Alexander McCall Smith and historian Alistair Moffatt, saw 1,000 people of all ages, spanning the length and breadth of the country, dedicate 55,000 hours of stitching to produce the tapestry. Using more than 300 miles of wool they translated Andrew Crummy's designs into a colourful, skilful and textural depiction of the history of Scotland.
As well as charting the history of Scotland throughout the centuries, visitors can also enjoy references to the castle itself within the intricately stitched scenes depicted within the 140 metre tapestry, including one relating to arguably its most famous past resident Mary, Queen of Scots.
Admission to the exhibition is included in the price of entry to Stirling Castle
Commenting on the opening of the exhibition at Stirling Castle, Fiona Hyslop, Cabinet Secretary for Culture, Europe and External Affairs, said:
"The Great Tapestry of Scotland is a truly unique piece of work, which tells the story of our nation, and has been enjoyed by hundreds of thousands of people since it first went on public display. The pairing with Stirling Castle offers visitors the opportunity to view this magnificent tapestry within the context of a venue that has witnessed some of the most significant events in our history, with the Great Hall of James IV a fitting venue to showcase a visual representation of many of the events which have shaped Scotland."
As well as Stirling Castle a number of other Historic Scotland run sites are depicted within the panels including Calanais Standing Stones on the Isle of Lewis, Iona Abbey and St Andrew's Cathedral.
Inspired by a visit to the Prestonpans Tapestry in 2011, Alexander McCall Smith approached the artist Andrew Crummy with the suggestion that he should design a tapestry that told the story of Scotland's history. The resulting tapestry illustrates a range of skilled embroidery techniques and is Scotland's largest community art project.
The Great Tapestry of Scotland exhibition at will run from the Saturday 31st January to Sunday 8th March and is open daily from 9.30am –5pm. Last admissions are 4.15pm.
Admission to the exhibition is included in the price of entry to Stirling Castle
---
Guildhall Music Club at Cowane's Hospital Stirling
The next Guildhall Music Club at Cowane's Hospital event will be on February 28th 2015.
An informal evening of music, craft beer, wine, food and chat, bringing together musicians from across Scotland in an informal, intimate setting. From professional to keen amateur, musicians of all genres are invited to come along and join the open session which runs from 7.30pm to 11pm.
Sometimes we'll feature visiting acts with international reputations, other times it will be a group of locals jamming with each other. Whatever the mix, wonderful music will fill the stunning 17th century, wood-panelled room.
Part of the proceeds from the Music Club will be donated to our Charity and will help us maintain this charming historical building.
For more info visit Guildhall Music Club at Cowane's Hospital Facebook Page or email info@stirlingfringe.com
---
Greer Ralston - What Lies Beneath
An exhibition of Figurative Drawing and Painting
23rd January - 5th March 2015 at &Collective Art Gallery, Bridge of Allan
Greer Ralston graduated from Glasgow School of Art with a B.A. Hons. in Fine Art. She has worked as a freelance artist for a number of years and has works in public and private collections in the UK and abroad , including those of international sportsmen and entrepreneurs. She lectures and runs a variety of classes and is often called upon to present to Art Groups throughout Scotland.
She regularly exhibits in many well known galleries across the UK and uses her work to fund raise for numerous worthwhile charities, ranging from Cancer Research to Riding for the Disabled. Many thousands of pounds have been raised to date through exhibitions and having portrait commissions auctioned for charity by Christies in London.
She was awarded the prestigious Greenshields International Scholarship for figurative art and she has also exhibited in the National Portrait Gallery in London.
After many years working as a figurative artist ,Greer recently returned to equestrian painting with a tribute show in 2008 called 'The Horse' dedicated to her late father Gilbert Ralston. The Ralston family, for generations, have had a long association with breeding and riding horses. Many of Greer's paintings incorporate both her passion for the figure and her life long love for animals. A number of the paintings feature horses and dogs owned by the family. Recent commissions undertaken have included Scott Brashes horses commissioned by the BSJA.
---
Memories of the Neolithic at Stirling Smith
At the Smith in Stirling until 1 March 2015
Out of Time (Memories of the Neolithic) - Photographs by David Paterson
The Smith's 2015 programme kicks off with a photography exhibition to get into the spirit of Dig It! 2015, the year-long celebration of Scottish archaeology (http://digit2015.com).
David Paterson is a former commercial photographer who retired to Killin in Stirling district in 2003 after a long career as a freelance in the advertising and publishing industries. He began his career in Edinburgh, moving to London in the early 1980s. In both cities he worked for the leading advertising agencies, design groups and publishing houses of the day. He has published over a dozen books of landscape photography on subjects ranging from the Scottish Highlands to the Himalayas, and has held numerous exhibitions.
He enjoyed a 25-year collaboration with the internationally-renowned garden artist, Ian Hamilton Finlay, which gave rise to several more books, exhibitions and other publications. He now devotes himself to the photography of Scottish landscapes and nature.
Colin O'Brien, Chairman of the Smith Trustees said, "It is a particular pleasure to welcome this exhibition of stunningly beautiful images from an internationally-known photographer who lives locally. The Stirling Smith serves the Stirling Council area from Killin and Crianlarich in the north, to Fallin and Throsk in the south, and we like to feature the work of artists who live here."
Find out more at Whats On at the Smith in Stirling
---
The Circus of Horrors - The Night of the Zombie
The Circus of Horrors – The Night of the Zombie is appearing at the Albert Halls in Stirling on Sunday 1st February, 7.30pm. If Quentin Tarantino had directed Cirque Du Soleil then you would be only half way there.
The show that stormed into the finals of Britain's Got Talent and now a West End smash is back to mark its 20th Anniversary in spectacular style. The last few years has seen the profile of The Circus of Horrors jump tremendously after rampaging into the finals of Britain's Got Talent and to this date it is still the only circus ever to reach the finals.
Its appearances on various subsequent TV shows have turned what set out as a cult show into a household name – taking the Extreme to the Mainstream, Its TV credits now boast The X Factor, The Slammer, Daybreak, Fairground Attractions, Who wants to be a Millionaire, Body Shockers, Fake Reaction, This Morning, Ant and Dec, The One Show and A Royal Comand Performance.
Last year saw another giant leap for the show when it began a series of dates in London's West End becoming the first circus to appear in a West End Theatre for 100 years.
The show started it's gruesome begging's at the 1995 Glastonbury Festival and became an instant hit, touring al over the world from Chile to Chatham, Argentina to Aberdeen, Japan to Jersey including festival appearances with Alice Cooper, Eminem, Motley Crue, Oasis, Iron Maiden, The Manic St Preachers, Marilyn Manson and many more. The latest incarnation 'The Night of the Zombie' is set in 2020, a decrepit and corpse ridden London, plagued by a swamp of Zombies. In a city ruled by the undead and climaxing in an awesome flaming apocalypse.
The story twists and turns with grisly murders and sensational shock's – all interwoven with some of the greatest and most bizarre circus acts on earth, sword swallowers, knife throwers, daredevil balancing acts, astounding aerialists, a demon dwarf, a Guinness World Record holding 'hairculian' hair hanging beauty, Sinister Sisters, gyrating and fire limboing acrobats and much more.
Performed by an almighty cast with a forked tongue firmly in each cheek and the devil driver rock n' roll of Dr Haze and The Interceptors from Hell.
http://www.circusofhorrors.co.uk
Find out more at Whats On at the Albert Halls in Stirling
---
The Circus of Horrors completely WOWED the audience The Daily Mail.
A Bloody Great Night Out The Times
Bloody Good Fun - Barnum Would be proud Time Out
Blood Thirsty and Burlesque The Independent
---
Stirling Cycle Hub pop-up cinema night 2015
Cycling Shorts
Stirling Cycle Hub put out a call to budding directors to send in bike films. Films were to be no longer than 5 minutes and the theme of course was bikes. Now they are hosting an evening of short cycling movies and premieres of their competition winning films. Friday January 30th at 7.30pm.
Dress warm or bring a blanket. Hot food and drinks will be on sale.
Tickets £3.50 from Stirling Cycle Hub or on the door. For more information contact the Stirling Cycle Hub team on 01786 474160 or cyclehub@forthenvironmentlink.org.
---
Best of the Bard - Celebrate Burns at Stirling Castle
Stirling Castle will mark the life and works of one of Scotland's most famous poets and exports, Robert Burns, this weekend. Taking place over the weekend of the 24th and 25th January, the events will see Stirling Castle celebrate the Scottish bard's lasting legacy, with visitors having the opportunity to discover more about some of his most iconic works that are still studied throughout the world almost 220 years later.
To mark the widely celebrated birthday weekend of the Scottish poet, Stirling Castle's "A Celebration of Burns" will see a series of special Burns themed tours. Following in the footsteps of Burns, when he visited the castle in 1787, visitors will be able to take in the surrounds of the impressive landmark whilst listening to some of his related works.
This year will also see the return of the "Burns for Bairns" for a second year. These special tours are designed to offer younger visitors an exciting introduction to the poet and will see a castle watchman guide them through the castle, just as he might have guided Burns some 228 years ago. Visitors keen to release their inner poet can also try their hand at penning their very own lines about their Burns visit to the castle at Poet's Corner, in the Great Hall.
With 2015 celebrating "The Year of Food and Drink", the castle's Great Hall will host a special event, looking at the origins of the traditional Burns Supper. Whilst a special selection of Burns-inspired dishes including traditional haggis, neeps and tatties, Scotch broth and shortbread will be on the menu at the Unicorn Cafe.
Commercial Business Manager for Stirling Castle, Liz Grant, said, "Our weekend-long Burns event will see a whole host of themed activities take place offering a great insight into the poet, as well as exploring his connections with the castle itself."
Stirling Castle's Burns themed tours take place at 12noon and 2pm, with Burns Supper and Poet's corner activities taking place from 12noon onwards and 'Burns for Bairns' tours taking place at 2.15pm.
These timings apply for both Saturday 24th and Sunday 25th January 2015. These events and activities are included in the cost of admission to Stirling Castle.
---
STIRLING'S HOGMANAY 2014 Cancelled
Update -
Stirling's Hogmanay event was cancelled on new Year's eve, due to dangerous wind speeds. A decision was made to cancel the Hogmanay Concert on the grounds of public safety. The decision was made at an emergency meeting at 8.30pm when the windspeed had increased.
The concert site was experiencing gusts of wind over 30 metres per second. These gusts were causing structural damage to the stage and were blowing over portaloos etc. The safety of the audience, the crew and the performers is paramount and could not be guaranteed with the exceptionally strong gusts of wind.
Ticket holders will be fully refunded.
If you paid by card then you will receive an automatic refund beginning 5 January.
If you paid by cash then please return to where you purchased your tickets from Monday 5 January onwards.
---