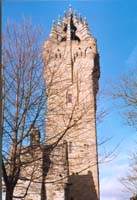 The Wallace Monument stands on the Abbey Craig in the City of Stirling. 220 feet (67m) high, this Victorian Gothic tower was opened in 1869 to commemorate Scotland's greatest freedom fighter, Sir William Wallace (1267-1305). It was funded by public subscription, and donations poured in from expatriate Scots around the world. Support came from many European leaders, including the Italian patriot, Garibaldi.
In 1296, Edward I of England invaded Scotland and the Scottish Wars of Independence began. William Wallace began a guerrilla campaign against the English and became known as the hammer and scourge of the English. On 11th september, 1297, the Scots defeated the English army at the Battle of Stirling Bridge.
After defeat at the Battle of Falkirk in 1298, Wallace was betrayed and captured. He was hanged, drawn and quartered in London in 1305, and has since become a symbol for Scotland and Freedom.
Read more about Sir William Wallace and the Battle of Stirling Bridge.
The Wallace Monument is on the Abbey Craig, a rocky crag from which Wallace watched the English army gather on the South side of Stirling Bridge.
---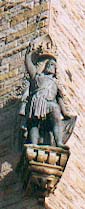 246 steps take you to the the top of the tower and there are three chambers where you can stop off during your climb. Take your time and catch your breath while you look at Wallace's famous double-handed broadsword, meet William Wallace and learn of his struggle to free Scotland from English rule.
In the Scottish Hall of Heroes you will meet other great Scots sculpted in marble. Writers, explorers, inventors and statesmen including, Robert the Bruce, Sir Walter Scott, David Livingstone, Robert Burns and James Watt.
The third floor of the Wallace Monument contains the 'Building the Monument' Exhibition.
The Wallace Monument was completed in 1869 on the back of a wave of nationalism then sweeping Europe, with expatriate Scots and international figures contributing towards its construction. The exhibition tells the fascinating story behind the building of the monument, including the fund-raising campaign, the design competition, and the building and opening of what has become a national landmark. The amazing story is told of how Victorian craftsmen overcame the challenges of their day to create their masterpiece on the Abbey Craig.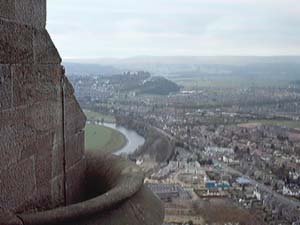 There is a shuttle bus which runs from the visitor centre car park to the top of the Abbey Craig.
Or you could walk the tarmac path up the hill and through the woods which surrounds the monument. If you decide not to climb the Wallace Monument, you will still be rewarded with a panoramic view from the base but the view from the top is breathtaking.
While you are up on the Abbey Craig, it's worth taking time to explore the semi-natural woodlands. Keep to the footpaths and do not venture near the edge of the cliffs.