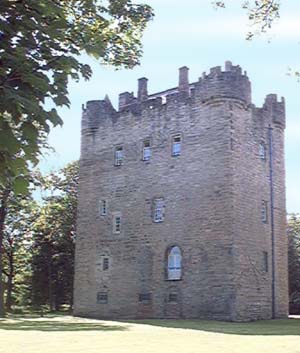 This enormous keep which was built in 1497 by the 3rd Lord Erskine, is what remains of the ancestral home of the Earls of Mar. Alloa tower is one of the largest tower houses in Scotland and this prize winning restoration is now open to the public,
The Erskines were supporters of the Stewart dynasty and had moved to Alloa to be near Stirling.
Thomas Erskine, the King's bodyguard, foiled the Gowrie Conspiracy and was enobled as Lord Erskine by James II in 1460.
The 5th Lord Erskine was promoted to be Earl of Mar in 1565 and then became Regent of Scotland.
The 2nd Earl was one of the two ambassadors who went to England in 1603 to negotiate the English throne for James VI.
The younger Stewart princes spent a lot of time at Alloa Tower as children, especially James V and Mary Queen of Scots who came here for safety after the birth of her son, James VI.
The 6th Earl of Mar was the Secretary of State for Scotland and a principal signatory of the Treaty of Union during Queen Anne's reign. He also layed the foundation for industrial Alloa. After the Hanoverian Succession, he raised the Jacobite Standard at Braemar in 1715 for the ex-King James VII and II. For this he was attained for High Treason, exiled and forfeited his lands and titles. The titles were restored to his grandson, John Francis Erskine in 1824.
The Tower was splendidly remodelled by the 6th Earl and partly completed before he was exiled after the 1715 Jacobite uprising.
Rare Medieval features include the oak beamed roof and interior well, groin vaulting, 11 feet thick walls and an underground dungeon. There are impressive 18th century Italianate modifications, superb furniture and portraits of the Erskine family which, includes paintings by Raeburn, Kneller and David Allan.
Running intermittently throughout the season, there will be a display of Jacobite Weaponry and Costume by Na Fir Dileas (The Loyal Men). Entrance is included in your ticket price and viewing is at usual Tower opening times.