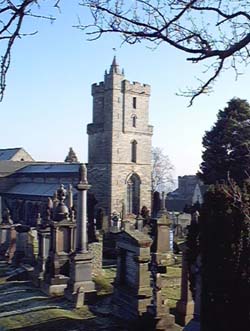 St John Street, Stirling Old Town
Telephone 01786 475275
The Church of the Holy Rude was founded as the parish church of Stirling in 1129, during the reign of David I, 1124 to 1153.
The original wooden church was destroyed, along with with much of Stirling, by a catastrophic fire in 1405.
A grant for the building of a new church was made by the Lord Chamberlain of Scotland and the present church developed in two stages. The Nave, South Aisle with rounded Scots pillars, the Gothic arches, the original oak timbered roof and the Tower were completed about 1414. The second half was completed around 1555.
The infant, King James VI was christened in the Chapel Royal at Stirling Castle in December 1566. He was carried into the chapel by the Count of Brienne, as proxy for the king of France who was his godfather. Queen Elizabeth and the Duke of Savoy were also godparents.
The ceremony was conducted by the Archbishop of St. Andrews according to Roman Catholic rites while the Protestant lords stood outside the chapel. The boy's father sulked in his apartments and refused to attend the ceremony and festivities.
After the forced abdication of Mary Stuart, Queen of Scots, the infant king was crowned in the Church on 29 July 1567. The abdication on 24 July 1567 marked the end of a twentyfive year struggle between the English supported Protestants and the French supported Catholics. The Protestant Lords, needed a speedy coronation in a church which was safe, close to the Castle and protestant. The crowning was carried out by the Bishop of Orkney and the ceremony was attended by the Earls of Mar, Morton and Home. John Knox preached the coronation sermon which was conducted in twenty minutes for fear of catholic counter attack. The Prince was then returned to the safety of Stirling Castle.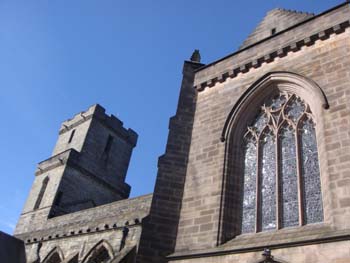 In 1997, Her Majesty Queen Elizabeth II attended a re-enactment of the coronation of King James VI in the Church of the Holy Rude, and unveiled a commemorative inscription to mark the event.
There are magnificent stained glass windows and one of Scotland's rare, surviving, medieval open timber roofs. Each craft guild formerly maintained an altar to its patron saint while wealthy burgesses built their own chapels. The vaulted Chapel of St. Andrew survives intact.
A dividing wall was built within the church after a 17th century dispute amongst the church's congregation. This was removed during the restoration in 1936. Holy Rude means Holy Cross.
Website www.holyrude.org
Open 1 May to 30 September 11am - 4pm
Services are held:
11.30am January to June
10.00am July to December