visit stirling
Battle of Bannockburn Visitor Centre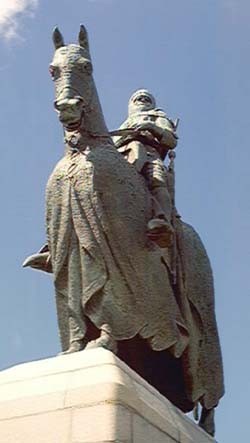 Bloody. Brutal. Bannockburn.
Take your place on the battlefield. Stand face-to-face with fearless medieval warriors. Witness two opposing kings – Robert the Bruce and Edward II – whose tactics in 1314 changed the path of Scotland's history, forever.
The Battle of Bannockburn visitor centre is now open. A world-class visitor attraction marking the 700th anniversary of the battle.
The Battle of Bannockburn
An incredible new experience that changes how you learn about Scottish history
In June 1314 the history of Scotland as a nation was about to change forever.
It was at the Battle of Bannockburn that Robert Bruce, King of Scots, would face down the English army led by Edward II.
Edward, keen to retain the stronghold of Stirling Castle, had led a huge army through Scotland to lift the Scots' siege of his garrison at the Castle.
Achieving this was vital to Edward's hopes of re-establishing his weakening grip on the country, but he was stopped short by the army of Robert Bruce at the Battle of Bannockburn.
Over the two days of battle, 23-24 June, Edward's army was repeatedly thwarted by the Scots stubborn resistance before finally finding themselves trapped by the surrounding terrain with no room to manoeuvre their huge force.
The result was an unprecedented rout of King Edward's army.
Located near the historic city of Stirling, the battleground still evokes the landscape that would have been seen by medieval soldiers in 1314 when the area was a royal hunting park.
Prepare for battle at the new Visitor Centre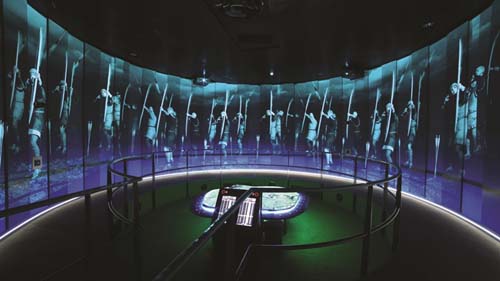 The Experience
The new Battle of Bannockburn Visitor Centre harnesses 3D technology to bring Scottish history to life.
Stand shoulder-to-shoulder with medieval warriors and armoured knights while learning about the tactics of two opposing kings in a truly immersive experience.
Witness the sights and sounds of medieval battle first-hand including ancient battle strategies, weapons and armour.
Each visit takes you through thrilling 3D interpretation of characters and events as you Prepare for Battle and culminates in a visit to the Battle Room.
To fully enjoy the experience, we strongly recommend you take part in an interactive BATTLE GAME led by the BattleMaster, which includes a demonstration of how Scotland triumphed in 1314.
Alternatively, you can just hear how events panned out in 1314 with a short Battle Show, narrated by academics Dr Fiona Watson and Dr Tony Pollard.
Battle Game
Create your own Battle of Bannockburn! Take part in a strategic Battle Game led by the BattleMaster and determine the outcome of the Battle of Bannockburn Game is followed by a demonstration of how the battle was won in 1314 Recommended total visit time 90 mins, game length 40 mins Either participate in a game or watch friends and family play from the gallery Pre-booking essential
Battle Show
Hear how the Battle of Bannockburn was won An automated replay of the Battle of Bannockburn on the Battle Room map Historical commentary from leading academics - Dr Fiona Watson and Dr Tony Pollard Recommended total visit time 60 mins, Battle Show Experience 10 mins Pre-booking essential
Learn about Bannockburn
In 1314 history was made and the fate of the Scottish nation changed forever
The site under ownership of NTS is the spot where Robert Bruce planted his standard and gathered his men to take on the might of the English army led by King Edward II.
The Bannockburn visitor centre is the only place to learn about this historic battle.
---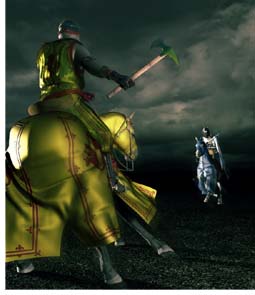 Commemorating Robert the Bruce's victory at The Battle of Bannockburn in 1314. This brought the independence William Wallace had fought for and led to Bruce becoming the undisputed King of Scotland. Although King Edward II's Army heavily out-numbered Robert Bruces Army, they still suffered their greatest defeat since the Battle of Hastings. The encounter which lasted two days, involved over 30,000 men.
No visit to Bannockburn would be complete without taking the short walk from the Visitor Centre to the historic landscape and battlefield.
Visitors can see the saltire flying proudly in the centre of the Rotunda, with its outlook to Stirling Castle, and the iconic Bruce Monument. The landscape has been restored and reinterpreted to commemorate the 700th anniversary of the Battle of Bannockburn. Access to the landscape and monuments is free to all visitors.
There is a bronze statue of Bruce on his war-horse by the commemorative Rotunda outside. This stands in the area where he killed the English knight Sir Henry de Bohun in combat, cleaving his skull in two with his axe.
Ticket prices
Adult £11
Child/concession £8
Family (2 adults and up to 4 children) £30
One parent family (1 adult and up to 4 children) £25
Booking fee applies
National Trust for Scotland members £FREE
Opening Times
Mar-Oct 10am-5.30pm daily
Nov-Feb 10am-5pm daily
Centre is closed Christmas Day, Boxing Day, New Year's Day and 2 January
Pre-booking is essential for Battle Room Experiences

Email bannockburn2014@nts.org.uk
Telephone 0844 493 2139
Bannockburn Heritage Centre, Glasgow Road, Stirling FK7

Visitor Centre Facilities
The new Visitor Centre contains a cafe and shop which is free to access.
Parking
Parking facilities will be available at the new visitor experience with space for 84 cars on a first come first served basis including 6 disabled parking bays, and 4 coach spaces.
Accessibility
Wheelchair users will find 6 designated parking spaces at the new Battle of Bannockburn experience in 2014. Currently, due to ongoing work, these will be limited and offered on a first come first served basis.
The park surrounding the centre welcomes visitors with dogs.
Bannockburn Heritage Centre
Glasgow Road, Stirling FK7 OLJ
Off M80/M9 at junction 9
2 miles South of Stirling town centre on Glasgow Road (A872)

Tel: 01786 812664
---
Bannockburn Live
Bannockburn Battlefield by Battle of Bannockburn Heritage Centre
Looking for a great day out? Bannockburn Live is a fantastic two day event happening on 28-29 June, commemorating the 700th anniversary of the Battle of Bannockburn.
The event has something for everyone and is a celebration of Scottish music, food and history. Be transported back in time and visit 1314, experience the sights and sounds of 14th century Scotland in the medieval encampments from the forges' sharpening weapons to the kitchens getting food ready for the troops. See one of the spectacular battle performances professionally choreographed by Clanranald known for their work on blockbuster films like Gladiator, Thor II and Robin Hood.
Fast forward to 2014 and hear some of the best Scottish music including Dougie MacLean, Julie Fowlis, King Creosote to name but a few. In Storyville see Scotland's history brought to life through music, discussion and debates celebrating Scottish history and culture. The line-up includes music from Karine Polwart, Bella Hardy and talks from authors Alistair Moffat and James Robertson. Plus there are lots of activities for children from hand-on crafts to trying out medieval sports.
Looking to trace your Scottish roots? Meet members from around 40 clans and families and learn more about their connections to Scotland.
And when you're feeling hungry, tantalise your taste-buds with the textures and flavours of Scotland's fantastic produce in the Land of Food and Drink.
So make sure you've got your tickets. Find out more and book online today at www.bannockburnlive.com
Saturday 28 and Sunday 29 June
10:00am - 7:00pm
King's Tickets £75 [SOLD OUT]
Family Ticket £55 [STILL AVAILABLE]
Adult (14+) £20 [STILL AVAILABLE]
Child (5-13) £12.50 [STILL AVAILABLE]
Children under 5 go free
All ticket prices shown are excluding booking fee and postage
Book online today at www.bannockburnlive.com
Location: The Battle of Bannockburn Centre, Glasgow Road, Whins of Milton, Stirling FK7 0LJ
---