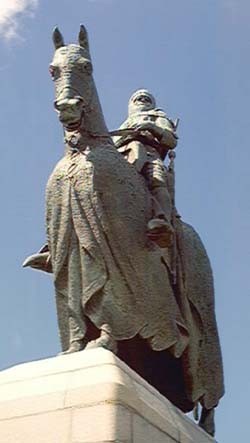 Bloody. Brutal. Bannockburn.
Take your place on the battlefield. Stand face-to-face with fearless medieval warriors. Witness two opposing kings – Robert the Bruce and Edward II – whose tactics in 1314 changed the path of Scotland's history, forever.
Opening in 2014, the Battle of Bannockburn visitor centre will be a world-class visitor attraction marking the 700th anniversary of the battle.
Please note that the centre is currently closed, while the exciting developments take place. The new Battle of Bannockburn experience opens to the public on 1 March 2014.
Harnessing state-of-the-art 3D technology, visitors can experience medieval combat like never before and learn about this crucial event in Scottish history.
---
Commemorating Robert the Bruce's victory at The Battle of Bannockburn in 1314. This brought the independence William Wallace had fought for and led to Bruce becoming the undisputed King of Scotland. Although King Edward II's Army heavily out-numbered Robert Bruces Army, they still suffered their greatest defeat since the Battle of Hastings. The encounter which lasted two days, involved over 30,000 men.
In the Visitor Centre, the exhibition brings the Wars of Independence to life. There are scenes of the coronation of Robert the Bruce and the signing of the Declaration of Arbroath.
There are figures of Wallace and Bruce, a large model of the Battle of Stirling Bridge and an audio-visual presentation which tells the story of Bruce and the battle. Display boards and photographs tell you about recent investigations to find the actual site of the battle.

There is a bronze statue of Bruce on his war-horse by the commemorative Rotunda outside. This stands in the area where he killed the English knight Sir Henry de Bohun in combat, cleaving his skull in two with his axe.